Nona Knows How To Win
Monday, January 14, 2019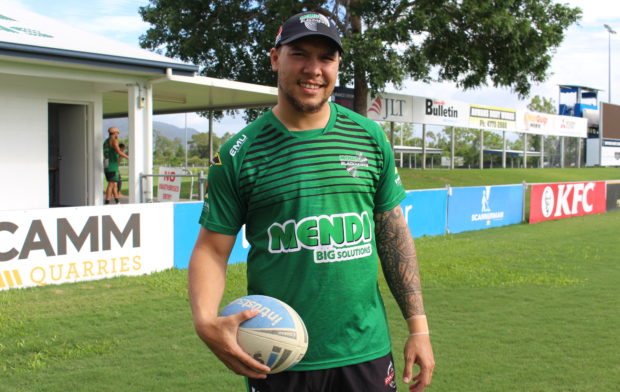 Shaun Nona has signed with the Mendi Blackhawks for 2019.  Photo Blackhawks Media
BLACKHAWKS MEDIA
The Townsville and Districts Mendi Blackhawks have signed former Tully Tigers junior Shaun Nona for the upcoming season.
For the past few years, Nona has been in the habit of winning.
In 2014, he was part of the QRL Northern Prides Premiership team, claiming "Man of the Match" along the way.
The Pride then went on to win the National Finals.
In 2014 and 2015 Nona was also selected for QLD Residents, winning both years and claiming the 2015 "QLD Representative Player of the Year" title.
The next year, Nona moved to Wollongong, playing with the Illawarra Cutters, winning the NSW Cup and then another National Finals title.
He was also selected for NSW Residents, helping them defeat Queensland, making him one of only a few players to win National Championships for both Queensland and New South Wales.
Nona has also been contracted to 3 different NRL clubs Melbourne Storm, Dragons and Brisbane Broncos, playing in 2 Auckland 9's series and trial games.
Last year he returned to Queensland, with the Broncos and playing for Wynnum Manly in the QRL's Intrust Super Cup.
"Jason Demetriou was my coach at the Pride and Cutters and he was the one to get me back to Queensland last year," Nona said.
"My last game for Wynnum in 2018 was against the Mendi Blackhawks and after speaking with some of the boys after the game, I knew I wanted to head back north."
"I played with Kalifa FaiFai-Loa, Levi Dodd and Jake Marketo at the Cutters (Illawarra), and it's made my transition a lot easier."
Nona's greatest achievement is his 14-month-old son Nickson, and said signing with the Mendi Blackhawks was the right fit for him and his family.
"Being closer to family was definitely a draw card for my decision to move," Nona said.
"We would like Nickson to grow up around family,"
"With my family in Tully and my partners family in Innisfail, it's a lot closer to visit."
Nona said he still hasn't given up on his dream of making an NRL debut, but said a maiden premiership at the Mendi Blackhawks would be his ultimate goal for 2019.
"Playing with NRL clubs has been a great experience for me, ones that I will never forget."
"My first goal is to try and lock down one of the halves positions,"
"There are a lot of talented players here and lots of competition."
"I'm really enjoying being at the club, especially with the new coach Aaron Payne,"
"But I still haven't given up on my dream of making a NRL debut,"
"I know if I play my best footy, I still might get an opportunity one day."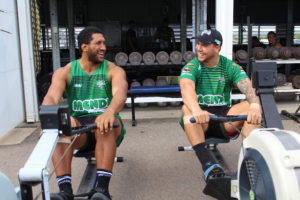 FaiFai-Loa and Nona training for the Mendi Blackhawks.