FaiFai-Loa and Power Destined for Success
Thursday, January 10, 2019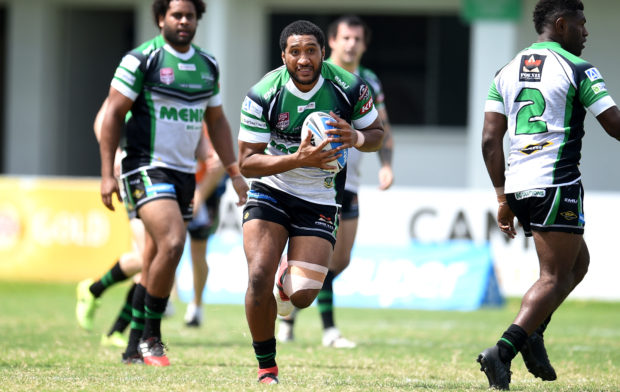 Photo: Alix Sweeney
COURTNEY THOMSON – BLACKHAWKS MEDIA
Before we commence Season 2019, here is a look back at the performance of two Mendi Blackhawks players, Kalifa FaiFai-Loa and Temone Power.
Considered a journeyman in Rugby League, former New Zealand International FaiFai-Loa had stints with St George Illawarra, North Queensland Cowboys and the Gold Coast Titans before turning to Townsville at the start of 2018.
Possessing undeniable speed and presence on and off the field, FaiFai-Loa was selected to play in the Queensland Residents team, a selective fixture that comprises of the best players from the QRL's Intrust Super Cup.
16 tries and 2922m of completed time with the ball saw FaiFai-Loa presented the prestigious 2018 Mendi Blackhawks "Player of the Year" award.
FaiFai-Loa proved to be a formidable force and is already achieving his set goals for 2019.
Named the 2018 Mendi Blackhawks "Players Player", Temone Power has built himself a reputation as an enforcer within the team.
A regular starter in 2018, Power scored an impressive 5 tries in his 21 appearances.
A Bowen Seagulls Junior, Power signed with the Mendi Blackhawks in 2016, but unfortunately an ACL tear suffered in a trial match, saw him sidelined for the year.
Powers focus has been on having his best pre-season to date.
"The strength and performance of any team not only relies on each player as a unit, but it is important to acknowledge the individual success of our players," Football Operations Manager Adrian Thomson said.
"We are excited about this year and expecting big years from both of these players."
"With preparations in full-swing for the season launch, we are gearing up for the year to come, welcoming back a number of returning faces from the Hastings Deering U20s squad, and incoming player Shaun Nona."
The team travel away from home for the first 3 rounds, returning to Jack Manski Oval on March 31 for the first home game against Burleigh.
Under new coach Aaron Payne, 2019 is shaping up to be a defining year for the Mendi Blackhawks.