Mendi Blackhawks Draw Local Coaches From Local Clubs
Thursday, December 13, 2018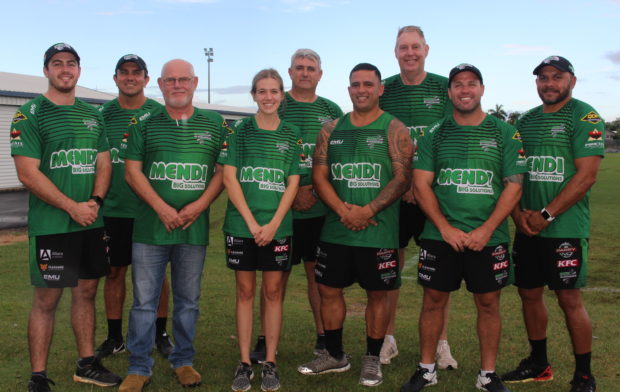 A part of the Mendi Blackhawks Coaching Staff for 2019 have been drawn from local Townsville clubs.  Pictured (from left): Liam Bartlett, David Elliott, Brad Garner, Melissa Miles, Matthew McConkey, Josh Stowers, Gavin Lloyd, Andy Walters and Matthew Bowen. Photo Blackhawks Media
BLACKHAWKS MEDIA
It's not just local Townsville Rugby League players that are benefiting from the Townsville & Districts Mendi Blackhawks Pathways, next season will see an influx of new Rugby League Coaches, all drawn from local Townsville clubs, for season 2019.
Matthew Bowen, our new Under 18's Coach, and Cameron Miller, both coached Townsville's Central Tigers Premiership Winning A-Grade team of 2018 and Bowen, along with Aaron Payne, is a former North Queensland Cowboys Rugby League Legend and Life Member.
Bowen is still employed at the North Queensland Cowboys as a Community Engagement Officer.
Josh Stowers, has been named as the new Under 18's Assistant Coach alongside Bowen for 2019.
Stowers was this the Western Lions A-Grade Coach this year, which saw him successfully taking his team through to the finals.
The 2018 Townsville Norths A-Grade Coach Andy Walters, has been named as Dave Elliott's Assistant Coach for the Mendi Blackhawks Under 20's.
Walters also took his team through to the finals series this year.
Former NRL player Jaiman Lowe was the trainer for the Townsville based Charters Towers players this year and will join the Mendi Blackhawks Under 18's coach staff for 2019.
Lowe played 54 games for the North Queensland Cowboys, 50 games for Souths and 38 games for Melbourne Storm.
Mendi Blackhawks Intrust Super Cup Assistant Coach Alan Petersen is back with the Mendi Blackhawks after a one-year break.
During this time, Petersen coached the Townsville Foley Shield team, winning the shield in games against Cairns and Mackay.
Gavin Lloyd and Liam Bartlett, are also a part of Bowen's Under 18's coaching team, are both affiliated with Brothers Townsville and employed at the North Queensland Toyota Cowboys.
"As much as our club is a pathway for players, we are also a pathway for Rugby League Coach's, Managers, First Aid Officers and everyone involved who want the same opportunities," Mendi Blackhawks Football Operations Manager, Adrian Thomson said.
"From here, they can move onto the NRL if opportunities arise."
"Both Kristian Woolf (Newcastle Knights) and David Tangata-Toa (North Queensland Cowboys), both coached here this year, are now at NRL clubs next season,"
"Along with our former Strength and Conditioning Coach James Moran, who is at the New Zealand Warriors next year."
"This is what we want to happen, more often."
Mendi Blackhawks Coaching Staff
Intrust Super Cup – Head Coach: Aaron Payne, Assistant Coach – Allan Peterson, Team Manager – Adrian Thomson, Head Trainer – John Crawley, Trainer – Jason Tassell, Trainer – Christian Quabba, Club Trainer – Melissa Miles, Support Staff – Morgan Regan, Support Staff – Larry Seri, Caitlin Keevers, Callum McConkey
Hastings Deering Colts Under 20's: Head Coach – David Elliott, Assistant Coach – Andrew Walters, Assistant Coach – Ray Thompson, Team Manager – Bradley Garner, Head Trainer – Louie Cantoni, Trainer – Jason Tassell, Trainer – Morgan Regan, Trainer – Melissa Miles
Auswide Bank Mal Meninga Cup Under 18's: Head Coach – Matthew Bowen, Assistant Coach – Josh Stowers, Team Manager – Gavin Lloyd, Head Trainer – Louie Cantoni, Trainer – Liam Bartlett, Trainer – Matthew McConkey, Trainer – Melissa Miles
Blackhawks Academy Coach: Cameron Miller