Blackhawks Attend Bowen Seagulls JRL Sign On Day
Wednesday, December 12, 2018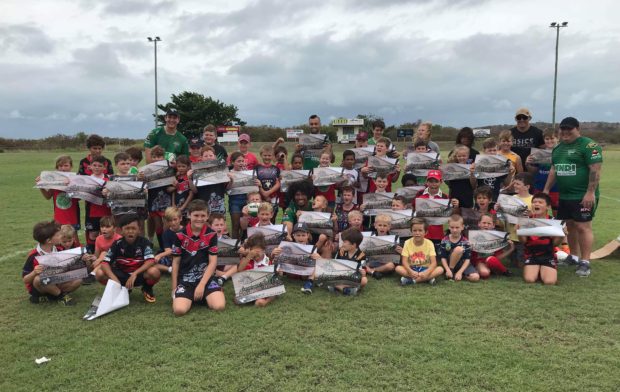 BLACKHAWKS MEDIA
The Townsville & District Mendi Blackhawks Development Staff and selected Players travelled to Bowen on Saturday to attend the Bowen Seagulls Junior Rugby League Club sign on day.
Current North Queensland Cowboys player Corey Jensen, who is a Bowen local, was also on hand to assist with the 80-100 juniors who participated.
The clinic was attended by junior Rugby League players aged 6 – 14 years, both male and female.
The juniors who attended the clinics, were put through drills to develop grip, catching, passing, play the ball technique, try scoring and tackling and finished with some games being played.
Mendi Blackhawks Development Officer, Tim Nugent, also conducted a coaching update for Bowen JRL coaches and supplied valuable resources to assist them in their role, as well as tips on how to construct effective training sessions.
Special thanks to the Bowen JRL for inviting us and we look forward to working with you again in 2019.
Mendi Blackhawks staff and players that attended included Tim Nugent, Cameron Miller, Sione Lousi, Levi Dodd and Jackson Dyne.