Pathway Leads to Locals Success
Thursday, November 22, 2018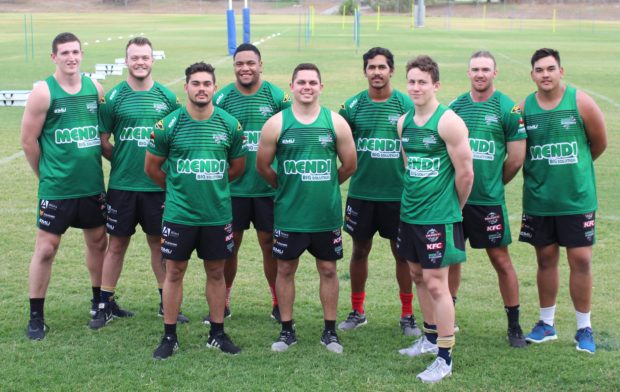 Pathway success for these Townsville local Rugby League players. Photo Blackhawks Media
BLACKHAWKS MEDIA
The Townsville and Districts Mendi Blackhawks pathways structure has paved the way for 12 local Townsville players signing with the Intrust Super Cup squad for season 2019.
Samuel Martin-Savage, Michael Carroll, Marshall Hudson, Jayden Stephens, Solomon Vasuvulagi, Jack Glossop, Thomas McCagh and Adam Cook have all been promoted up through the Blackhawks ranks into the ISC squad for 2019, each a part of this years under 20's grand final team.
Adam Cook commenced 2018 with the Mendi Blackhawks Under 18's squad, and will now finish the year off with an ISC contract.
Nathan Traill, Ryan Lloyd, Cody Maughan and Chippie Korostchuk all had success with their local Townsville Clubs this year, has seen them either rewarded with a 2019 Mendi Blackhawks contracts, or presented a chance to gain one.
Ben Condon who was also a part of the team, will remain with the North Queensland Cowboys in 2019.
Mendi Blackhawks Football Operations Manager Adrian Thomson said he has been pleased with the results with the development of the clubs pathways.
"We are really excited about how the new development pathways structure has been working," Thomson said.
"In season 2019, we will only have 1 new player at the club that didn't play for a Townsville team this year."
"So far, 8 of our under 20's local players from this year have been promoted to ISC, and we definitely could have signed a few more if there was room."
"Each of these players we signed have been selected in the squad, not just to make up numbers, but we want them to push through and play Intrust Super Cup in 2019."
"They are the future of our club."
"Our Under 20's coaching staff did a great job this year preparing these boys for ISC,"
"So now they have stepped up, it hasn't been a major change for them."
"For the guys we didn't signed, we want them to continue to play well with their local clubs, and hopefully we can bring them in at a later stage."
"This is the outcome we want."
As a local Townsville Rugby League player who did make it in the NRL, Coach of the Mendi Blackhawks Aaron Payne can already see the benefits of the pathways available.
"It's exciting to see so many young locals stepping up to the Intrust Super Cup in 2019," Payne said
"The program reduces the gap between NRL, Reserve Grade and local league."
"It also prepares them better, keeps them grounded and now, kids don't have to leave their homes to pursue their dreams of playing ISC or NRL."
"This years under 20's boys, have been training really well and have come with a great attitude,"
"The quality that they are giving me is of a really high standard, and they know that if they commit to working hard at every session, there is a good chance they will debut for ISC next year."
"Then hopefully the next step after that is a debut with the North Queensland Cowboys."
"So now, the first time they put on a Cowboys jersey will be when they are making their NRL debut."
"It's only early days, and we haven't lost a game yet, but we are doing well so far."