Mendi Blackhawks Announce 2019 Coaching Team
Wednesday, October 10, 2018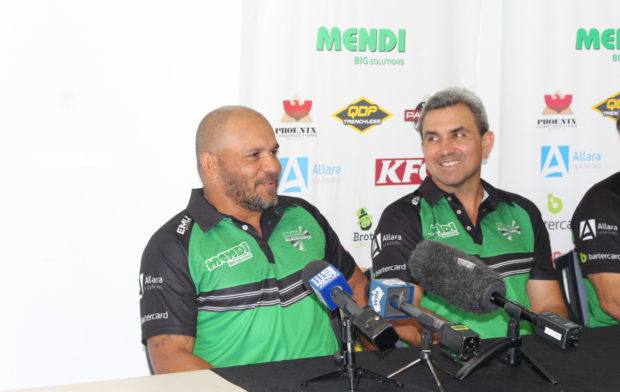 Mendi Blackhawks have announced former Cowboys legend Matthew Bowen will coach their U18's in 2019 and David Elliott will coach the U20's.  Photo Blackhawks Media
BLACKHAWKS MEDIA
With the departures of Kristian Woolf and David Tangata-Toa to NRL clubs, Townsville and Districts Mendi Blackhawks Operations Manager Adrian Thomson has been busy recruiting an entire new coaching staff for 2019, and there are some very familiar names amongst the list.
Aaron Payne has already been named head coach of the Mendi Blackhawks, but a second former North Queensland Cowboys Life Member and legend is also joining the ranks with Matthew Bowen announced as Coach of the Under 18's.
Bowen will be taking over from Cameron Miller, who is heading up the Blackhawks Academy, and is coming off a busy season playing and co-coaching Townsville & Districts Rugby League premiership winners, Central Tigers this year.
Thomson said he is looking forward to having "Mango" at the club.
"It's monumental for us to have two North Queensland Cowboys Life Members and legends at our club," Thomson said.
"These kids have grown up idolising Matty, now to have him as a coach, will be an unreal experience for them."
"We are proud to be a pathway for not only players but coaches as well, and Matty showed what he could do with Centrals this year."
Bowen said he couldn't wait to start his new position at the club.
"There are some exciting young players coming through the system," Bowen said.
"I'm looking forward to helping these players to reach their full potential."
"To get this position is something very special to me, and I can't wait to get started."
Ignatius Park teacher and Mendi Blackhawks Assistant Coach David Elliott, has been named as the Under 20's Coach.
Elliott will commence his new position at the end of the school year, and Thomson said it is a great reward for him after being an assistant coach for the past 4 years.
"Dave has been a fantastic assistant to Woolfy since day one," Thomson said.
"His local knowledge of the area is something that we really wanted for this position and Dave already knows most of these young players."
"This team are coming off a great year this year, and I'm sure Dave will continue the success."
Jason Tassell has also been named to head up the Strength and Conditioning unit, after James Moran signed with the New Zealand Warriors.