Farewell to Coach Kristian Woolf
Wednesday, September 26, 2018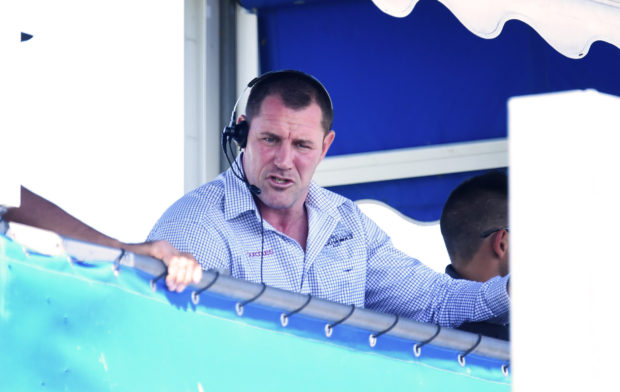 The Mendi Blackhawks say farewell to Kristian Woolf. Photo Alix Sweeney
BLACKHAWKS MEDIA
After 97 games and 4 seasons, Inaugural Coach of the Townsville & Districts Mendi Blackhawks Kristian Woolf will leave Townsville and head back to the NRL with the Newcastle Knights.
With a 64%-win record, Woolf has built the club into a powerhouse, being the only team in the competition to make the finals every year for the last 4 Intrust Super Cup seasons.
Woolf's coaching career began in Townsville back in 2002 as Assistant Coach for Townsville Brothers, then Coach of Ignatius Park College, where he also worked as a teacher.
In 2005, Woolf joined the North Queensland Cowboys and in 2009 became coach of the National Youth Competition, making the 2011 grand final, with players including Jason Taumalolo, Michael Morgan, Kyle Feldt, Michael Parker-Walshe, Zac Santo and Felise Kaufusi.
Woolf has recently teamed up with Taumalolo again as Head Coach for the Tongan National Rugby League side, which made the semi-finals for the first time ever at last years World Cup.
"I've had a very enjoyable 4 years here," Woolf said.
"The club has been very professional and well set up from the start."
"I feel fortunate to have had such a supportive board, with a great group of players, staff and supporters."
"I am looking forward to a new challenge next year and the way my new role has been explained to me is something that I am excited about,"
"It was time for me personally to get a bit of a freshen up of ideas and a different look at how things can be done,"
"And I also think it was time for the Mendi Blackhawks to get the same freshen up."
"A new coach will bring different, new ideas, and I think it will be good for the club."
"There is always highs and lows in coaching, but I've certainly enjoyed my time here and want to thank everyone involved in that."
Football Operations Manager, Adrian Thomson, said that Woolf has been the major part of the success of the Mendi Blackhawks in the first 4 years.
"Kristian has set a very high standard at the club," Thomson said.
"He is always professional and gives a clear understanding of what he expects from the team,"
"We wish him and his family all the best in Newcastle and thank him for everything he has done for our club."