U20's Through to GF!!
Monday, September 17, 2018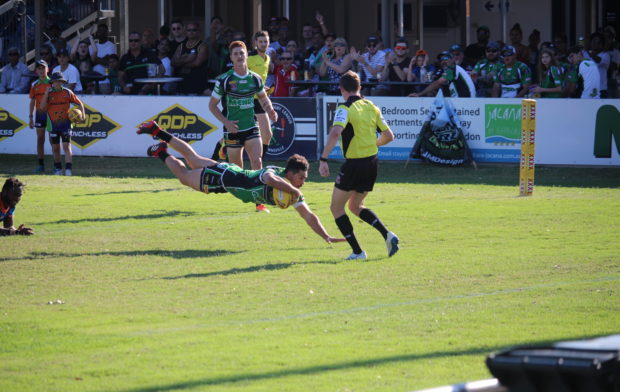 Michael Carroll scores in spectacular fashion for his teams 26-22 win against the Northern Pride.  Photo Blackhawks Media
BLACKHAWKS MEDIA
The Townsville and Districts Mendi Blackhawks Under 20's have made it through to the Hastings Deering Colts Grand Final after a comeback win against the Northern Pride on Saturday.
Down 22-10 at half time, Coach of the Mendi Blackhawks David Tangata-Toa told his boys to stay positive, they just needed more possession, to defend better and be patient.
His advice paid off.
The visitors lead for most of the game, until with only 3 minutes remaining, Townsville junior James Conroy scored the winning try beside the corner post, putting his team in front for the first time.
The win was sealed with Adam Cook, kicking possibly his best conversion of the year, from the sideline.
After leading the competition for 16 weeks, Tangata-Toa said there was a fair bit of expectation for his team to make the grand final.
"There is definitely a sense of relief around now, the pressure is off," Tangata-Toa said.
"It's an old cliché, but the game was really a game of two halves."
"In the first half the Pride came out firing and we didn't really have any answers for them,"
"Luckily for us, we found some rhythm in the second half, and got the win."
"As we saw a couple of weeks ago, Norths are a really good team."
"We have areas that we will address this week to work on, and obviously we have extra commitments, but our preparation won't change too much."
"Every team wants to be playing this week, so I want the boys to enjoy it as well."
"I think we have consistently been the best team all year and that's been great,"
"But we have got one game to go and that will be the difference between an OK year and a great year."
The team travel to Brisbane on Saturday for final preparations.
Hastings Deering Colts Under 20's Grand Final
1pm Saturday, September 23 Suncorp Stadium
Townsville Mendi Blackhawks (1) V Norths Devils (2)