FaiFai-Loa Takes Out Top Award
Friday, September 7, 2018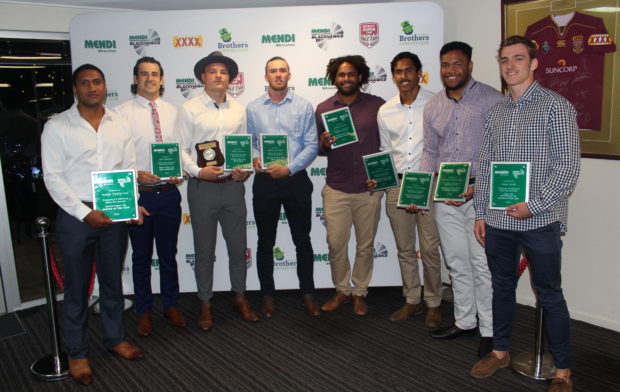 Award Winnes from the Mendi Blackhawks Presentation Evening. Photo Blackhawks Media
BLACKHAWKS MEDIA
Kalifa FaiFai-Loa has taken out the 2018 Mendi Player of the Year Award last night at Brothers Leagues Club in front of 230 Mendi Blackhawks Players, Partners, Coaching Staff, Staff and Sponsors.
In only his first year with the Mendi Blackhawks, FaiFai-Loa won the award with 16 tries and running a total of 2922m with the ball for the year.
Coach of the Mendi Blackhawks Kristian Woolf praised FaiFai-Loa for his consistency and ability to handle pressure.
"Kalifa has been wonderful for us, on and off the field," Woolf said.
"He's only missed one game this year and been very consistent."
"From the start, he made the pressure of pre-season more enjoyable and he's great to have around,"
"Every game that he has been involved in, he has had a positive impact on the result."
Samuel Martin-Savage took our the U20's Player of the Year and Isaac Locke was the U18's Player of the Year.
Award Winners
U18 Player of the Year – Isaac Locke
U20 Back of the Year – Thomas McCagh
U20 Forward of the Year – Solomon Vasuvulagi
U20 Players Player – Solomon Vasuvulagi
U20 Player of the Year – Samuel Martin-Savage
ISC Back of the Year – Jaelen Feeney
ISC Forward of the Year – Jake Marketo
ISC Players Player – Temone Power
ISC Mendi Player of the Year – Kalifa FaiFai-Loa
Cr Russ Cook Community Award – Jaelen Feeney