2019 TRIAL REGISTRATIONS
Wednesday, September 5, 2018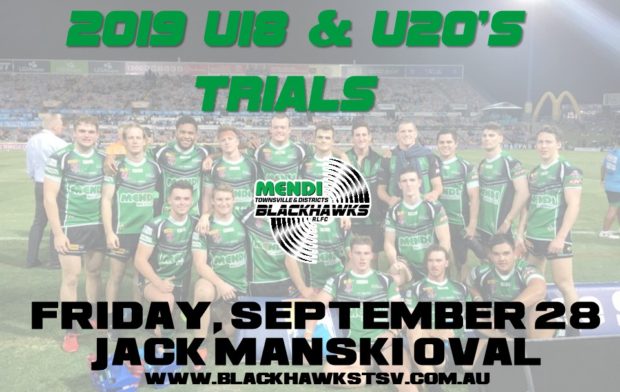 Here is your chance to play Rugby League for the Mendi Blackhawks in 2019!
The Townsville & Districts Mendi Blackhawks will be holding open trials for our Under 18's and Under 20's teams in 2019.  Trials will take place Friday, September 28 at Jack Manski Oval, Townsville.  
TRIAL TIMES
* Under 18's 5pm (Must be born in 2001, 2002)
* Under 20's 6.30pm (Must be born in 1999, 2000)
On the day, you will need to bring:
Mouthguard
Boots
Socks
Strapping (if required)
Shorts
Ensure you have comprehensive health and medical insurance and provide a copy (If you are a member of a Rugby League Club in 2018, you are insured up to, and until February 28, 2019)
REGISTRATIONS CLOSE 5PM TUESDAY, SEPTEMBER 25, 2018
For more information, please email the Mendi Blackhawks: operations@blackhawkstsv.com.au
Thank you and good luck!