Semi Finals – Week 1
Monday, August 27, 2018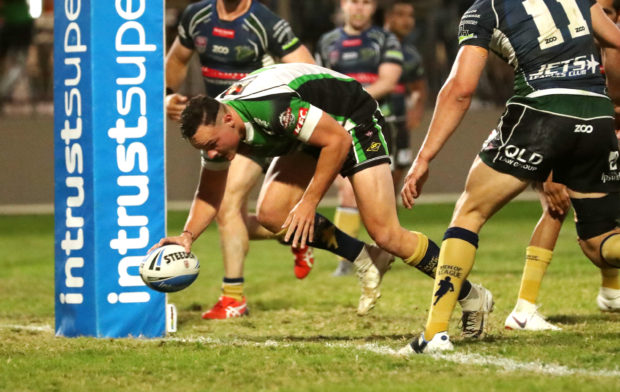 Jaelen Feeney crosses the line for the Mendi Blackhawks in their last game against the Jets. Photo Alix Sweeney
BLACKHAWKS MEDIA
It was left to the final game of the 2018 regular season to see who would fill the top 6 spots on the Intrust Super Cup ladder.
The Townsville and Districts Mendi Blackhawks finished in third position and will play at home this Saturday against the Ipswich Jets kicking off at 1.10pm.
The Jets made the top six by beating Norths Devils yesterday 22-14, after PNG went down to the Capras on Saturday.
The two teams have already faced off twice this year, resulting in a win each.  Ipswich winning the first game back in round 2, 20-18 and the Mendi Blackhawks winning 22-18 in round 18.
Coach of the Mendi Blackhawks Kristian Woolf said its business as usual for his team this week.
"Our preparations won't change too much this week," Woolf said.
"This is the time of the year that everyone wants to still be playing,"
"So, I want the boys to not only train well, but to enjoy the week as well."
"There was a real energy around training last week, and I'm sure that will be the case this week as well."
Woolf is expecting a tough game this week, with the Jets to be at their best.
"Being a knock out semi-final, the Jets will definitely be bringing their best game,"
"We need to make sure we are the same."
"Semi-finals are always a great challenge and I am sure that this weekend will be no different."
"I think that while we didn't win some of our last few games, we were still very competitive, got a good build up and are battle-hardened and ready to play."
Woolf said the squad will train tomorrow, but we won't be finalised until Thursday.
The Mendi Blackhawks Under 20's earnt a week off after finishing first on the Hastings Deering Colts ladder.
The team went down to Wynnum on Saturday, in a high scoring encounter, 40-36.
Tickets for the game this Saturday are available now from Brothers Leagues Club, Townsville or at the gate.
Intrust SuperCup – Finals Week 1
Saturday, September 1 – Elimination Final 1
Townsville Blackhawks (3) v Ipswich Jets (6) at Jack Manski Oval 1.10pm (Channel 9)
Saturday, September 1 – Elimination Final 2
Northern Pride (4) v Easts Tigers (5) at Stan Williams Park, Cairns 3pm
Week 1 off: Redcliffe Dolphins (1), Burleigh Bears (2)
Hastings Deering Colts Under 20's- Saturday, September 1 – Elimination Final 1
Northern Pride (3) v Souths Logan Magpies (6) at Stan Williams Park, Cairns 1pm
Elimination Final 2 – Date TBC
Victoria Thunderbolts (4) v Wynnum Manly Seagulls (5) TBC*
Week 1 off: Townsville Blackhawks (1), Norths Devils (2)