Final Home Game of 2018
Wednesday, August 8, 2018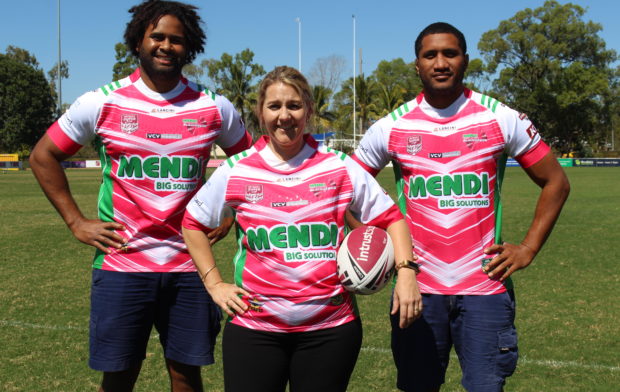 Temone Power, Renee Triffett and Kalifa FaiFai-Loa model the Mendi Blackhawks Women In League jersey to be worn this weekend.  Photo Blackhawks Media
BLACKHAWKS MEDIA
This Saturday's home game is shaping up to be the game of the year as the Mendi Blackhawks take on second placed Redcliffe Dolphins in a top of the table clash.
With only 3 games remaining, the Mendi Blackhawks must win on Saturday if they are to stay on top of the 2018 Intrust Super Cup ladder.
Last week's draw kept Redcliffe just 1 point behind first position, followed by the Burleigh Bears on 28.
This week is also Women in League round and the team will be wearing specially designed pink jerseys to celebrate.
The Mendi Blackhawks Under 20's also remain on top of the Hastings Deering Colts ladder by 2 points, just ahead of the Northern Pride.
The team had a bye last weekend and are looking for a strong performance going into their last 3 games to finish the season, starting this weekend.
Kick off for the Intrust Super Cup game is 2pm followed by the Under 20's at 4pm.

Mendi Blackhawks V Redcliffe Dolphins
Saturday, August 11 

Kick Off:

 2pm


Jack Manski Oval
1.    Zac SANTO
2.   Carlin ANDERSON
3.   Shaun HUDSON
4.   Ty CARUCCI
5.   Kalifa FAIFAI-LOA
6.   Zach DOCKAR-CLAY
7.   Jaelen FEENEY
8.   Frank MOLO
9.   Krys FREEMAN
10. Rod GRIFFIN
11. Jake MARKETO (c)
12. Andrew DAVEY
13. Joe BOYCE
15. Daniel BEASLEY
16. Sione LOUSI
18. Brenden SANTI
19. Brent WOOLF
COACH: KRISTIAN WOOLF
* Team to be confirmed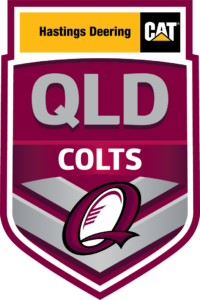 UNDER 20'S
Mendi Blackhawks V Redcliffe Dolphins
Saturday, August 11  

Kick Off:

 4pm 


Venue:

 Jack Manski Oval
1  Thomas McCagh
2  Lindsey Kirk
3  Michael Carroll
4 Lachlan La Rosa
5 Jake Riley
6 Samuel Martin Savage (c)
7 Adam Cook
8 Jayden Stephens
9  Sean Mullany
10 Logan Bayliss-Brow
11 Campbell Duffy
12 Nathan Barrett
13 Solomon Vasuvulagi
14 Enemarki Shibasaki
15 Jack Althaus
16 Ben Condon
17 Lance Folbigg
COACH: DAVID TANGATA-TOA
* Team to be confirmed