Blackhawks Announce New Academy
Wednesday, August 8, 2018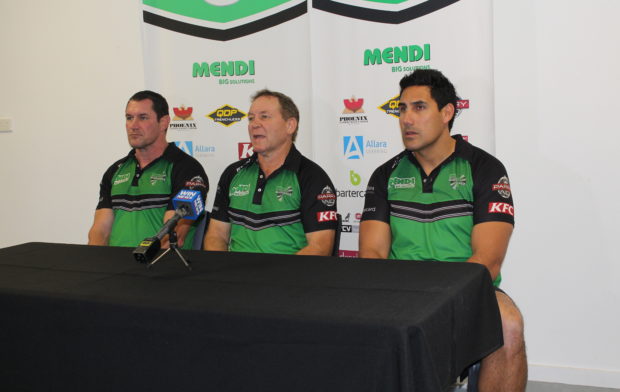 Mendi Blackhawks Coach Kristian Woolf, Football Operations Manager Adrian Thomson and Under 20's Coach David Tangata-Toa at the announcement of the new Blackhawks Academy.  Photo Blackhawks Media
BLACKHAWKS MEDIA
The Townsville and Districts Mendi Blackhawks have announced an exciting new partnership with the TDJRL and Townsville Senior Rugby League, forming a joint Development Academy Program for 12-17 year old age groups.
From next year, the current development program, Townsville Stingers, will be known as the "Blackhawks Academy".
The program is designed to develop local talent and create a clear pathway to Intrust Super Cup and NRL levels.
Mendi Blackhawks Football Operations Manager Adrian Thomson, said the new format is designed to directly benefit local junior rugby league players.
"This is an exciting new format for Townsville Rugby League," Thomson said.
"All junior or senior academy's will now be under the Blackhawks banner, which creates a consistent flow right through the levels,"
"The new format will also improve communication with all Townsville and Districts Rugby League clubs, which will help the players to be identified and developed,"
"The historical blue and gold colours of the Stingers, will be incorporated in the new jersey."
"Everyone has been working hard towards this, and we are excited about the future of Rugby League in Townsville."
Current Townsville and District Mendi Blackhawks players that have come through the pathway from Stingers to Blackhawks include: Zak Santo, Temone Power, Cade Maloney, Kierran Quabba, David Munro, Paul Byrnes, Ty Carucci, Sam Martin-Savage, Samsen O'Neill and Jonathan Reuben and Corey Jensen going right through to the North Queensland Cowboys.