Think Pink at Women In League Round
Monday, August 6, 2018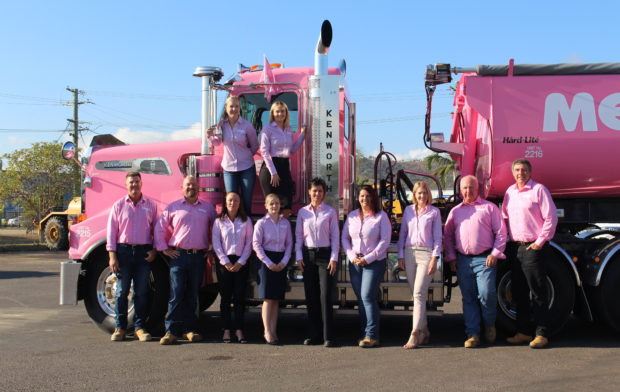 The Mendi team will be at the game this Saturday to launch THINK PINK WEEK. Photo Blackhawks Media
BLACKHAWKS MEDIA
To coincide with "Women in League" round this weekend, the Townsville and Districts Mendi Blackhawks naming right sponsor MENDI, are launching their annual THINK PINK WEEK.
THINK PINK WEEK recognises "Women in Construction" while supporting local charities within our community, "Sky Foundation" and "Unlock the Lachs".
Liz Hodder, Mendi Corporate Services Manager, said she is excited about the launch of their second THINK PINK WEEK.
"THINK PINK WEEK is all about recognising women in construction," Liz said.
"With our partnership with the Mendi Blackhawks, we thought it was an ideal time to align with the Women in League round,"
"We use this week as an opportunity for us to help local charities that are continuously giving back to our community, ensuring that the money raised stays local."
"The Mendi team will be at the game cheering on the boys, as well as selling raffle tickets and lucky door prizes,"
"We are hoping for a successful day not only on the field, but for our THINK PINK WEEK campaign as well."
50c from each entry ticket sold into the game will be donated to THINK PINK WEEK, as well as raffle tickets will be on sale, with awesome prizes to be won, including a 2018 signed Cowboys jersey.
Each lady attending the game on Saturday will receive automatic entry into the draw, which will be drawn at the end of the main game.
Mendi THINK PINK WEEK merchandise will also be available for purchase, plus don't miss the fantastic PINK Mendi truck, which will be located at the front entrance.