Round 21 Mendi Blackhawks Team List
Thursday, August 2, 2018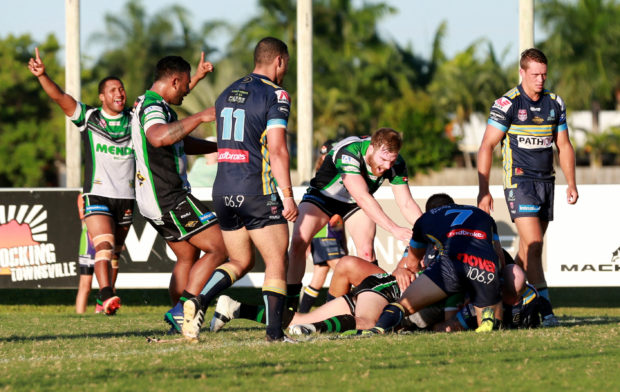 The Mendi Blackhawks celebrate a try during their Round 7 clash against the Norths Devils. Photo Alix Sweeney
BLACKHAWKS MEDIA
The Mendi Blackhawks ISC  team travel to Bishop Park this Saturday to take on the Norths Devils.
Coach of the Mendi Blackhawks, Kristian Woolf said his team is preparing for a tough, physical game.
"Norths will be playing hard to secure a spot in the top 6," Woolf said.
"They will also be looking to bounce back from last week,"
"There are some things that we need to improve on from last week, including our kicking game,"
"But our challenge for this week and for remainder of the season is to be consistent."
The last time these teams played back in round 7, the Mendi Blackhawks defeated the Norths Devils 30-16.
The game kicks off at 1.10pm, and will be televised LIVE on Channel 9 from 1pm.
Mendi Blackhawks Under 20's have their final bye round of the year this weekend.

Mendi Blackhawks V Norths Devils
Saturday, August 4 

Kick Off:

 1.10pm


Venue:

 Bishop Park
1.    Zac SANTO
2.   Carlin ANDERSON
3.   Shaun HUDSON
4.   Ty CARUCCI
5.   Kalifa FAIFAI-LOA
6.   Zach DOCKAR-CLAY
7.   Jaelen FEENEY
8.   Frank MOLO
9.   Krys FREEMAN
10. Rod GRIFFIN
11. Jake MARKETO (c)
12. Temone POWER
13. Corey JENSEN
14. Daniel BEASLEY
15. Brenden SANTI
16. Andrew DAVEY
17. Joe BOYCE
COACH: KRISTIAN WOOLF
* Team to be confirmed