Rd 20 Results
Monday, July 30, 2018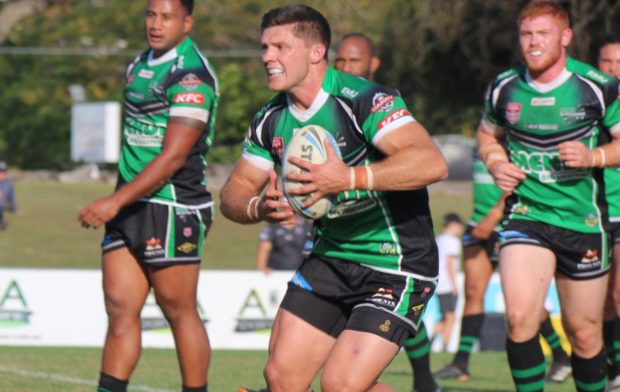 Corey Jensen in action for the Mendi Blackhawks in their win 16-6 against the Magpies.  Photo QRL Media.
BLACKHAWKS MEDIA
Next week's home game against the Redcliffe Dolphins is shaping up to be the game of the season after the Mendi Blackhawks defeated Souths Logan Magpies 16-6 at Davies Park yesterday.
The win put the Mendi Blackhawks in outright first position on the Intrust Super Cup ladder, with 4 games remaining, and only 2 points ahead of the Dolphins.
It was a massive milestone day for Souths yesterday, with Phil Dennis breaking the Queensland Intrust Super Cup record of 271 games.
Coach of the Mendi Blackhawks, Kristian Woolf, said he was happy with his team's performance, especially the defensive effort.
"To get a win like that is really pleasing, especially for this time of the year," Woolf said
"Souths were emotionally ready for the game, celebrating such a big occasion,"
"And it certainly was a good, high quality, tough game that we had to endure a lot of defence, particularly early,"
"We needed to make sure we can handle these types of games, especially as we get closer to finals."
"The game was terrific preparation for us, in terms of being on the road, in an emotionally charged environment, and against a team that is playing really well."
"I thought Zac Santo was our best player, coming up with important defensive plays at crucial times,"
"Our bench also did a terrific job, lifting the intensity of the game when they entered the field."
Woolf is expecting this week's game against the 8th placed Norths Devils to be a similar high quality, tough game.
"Norths will be playing hard to secure a spot in the top 6," Woolf said.
"They will also be looking to bounce back from last week,"
"There are some things that we can improve on, including our kicking game,"
"But our challenge now is to be consistent for the remainder of the season."
Yesterdays win means that next week's game could decide the Minor Premiership.
The Mendi Blackhawks under 20's were unable to get a win going down to the Magpies 16-14, in only their second loss for the season.
ISC TOWNSVILLE BLACKHAWKS 16 (Carlin Anderson, Temone Power, Krys Freeman tries; Kalifa Faifai-Loa 2 goals) def SOUTHS LOGAN MAGPIES 6 (Paul Rokolati try; Guy Hamilton goal) at Davies Park.
U20's TOWNSVILLE BLACKHAWKS 14 (Campbell Duffy, Jake Riley, Lachlan La Rosa; Adam Cook  1 goal) SOUTHS LOGAN MAGPIES 16 (Ashton Watson, Luke Burton, Tanah Boyd; Kye Oates 2 goals) at Davies Park.