Rd 18: Blackhawks def Jets (Photo Gallery)
Monday, July 16, 2018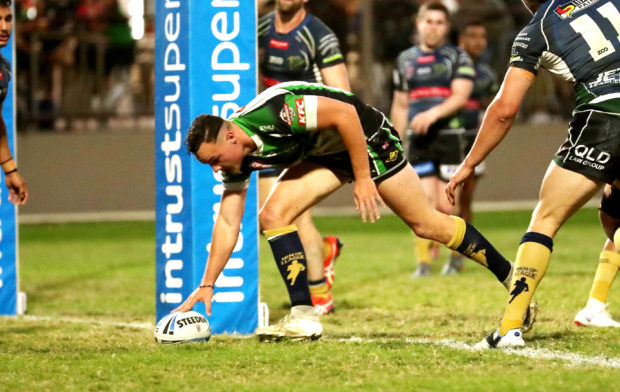 Jaelen Feeney scores for the Blackhawks during their 22-14 win over the Jets on the weekend. Photo's by Alix Sweeney
Three unanswered tries in the second half secured the Mendi Blackhawks a 22-14 win over the Ipswich Jets on Saturday.
The Jets went into half time leading 14-4, but the home team came out firing in the second half with 3 unanswered tries to Levi Dodd (41m), Jaelen Feeney (50m) and Zach Dockar-Clay (77m).
The win puts the Blackhawks in second position on the ladder, just behind the top spot on points differential .
Coach of the Mendi Blackhawks Kristian Woolf said he hopes the win will give his team extra confidence heading into the final 6 games of the season.
"It was a really good win for us on Saturday, and an important one," Woolf said.
"The Jets were coming off a big win in the previous round, so we were expecting a tough game and that's what we got."
"I was particularly happy with our defense, especially in the second half, keeping them scoreless,"
"Unfortunately, we still had a couple of errors creeping in at times, which makes it hard on ourselves,"
"But it was a good solid win and will give us some confidence for the remainder of the season."
Next week is the Intrust Super Cup Country Week, which sees the team travelling out to Hughenden to take on Tweed Heads, 3pm Sunday July 22.
TOWNSVILLE BLACKHAWKS 22 (Levi Dodd, Jaelen Feeney, Zach Clay tries; Zach Clay 5 goals) def IPSWICH JETS 14 (Marmin Barba, Jayden Connors tries; Marmin Barba 3 goals) at Jack Manski Oval.