Rd 16 Team Lists
Wednesday, June 27, 2018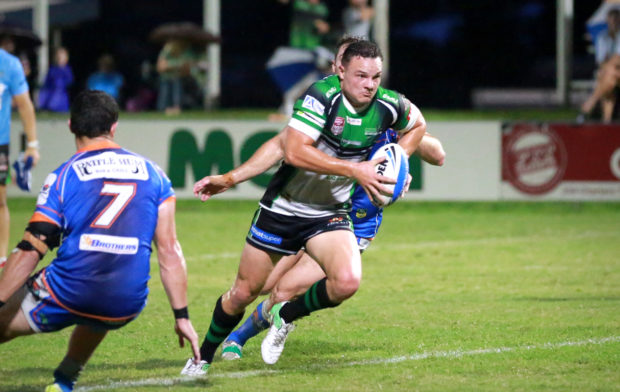 Jaelen Feeney in action round 3 against the Northern Pride.  Photo Alix Sweeney
BLACKHAWKS MEDIA
Fresh from the last bye round of the season last weekend, the Mendi Blackhawks have named their teams to travel to the Atherton Showgrounds this Saturday, to take on the Northern Pride.
Coach Kristian Woolf, who has returned from coaching duties with the Tongan National Rugby League team after their victory over Samoa in the Pacific Test on Saturday, has named a 19-man squad, with the majority of the same players named from previous rounds.
"We have been fortunate with a bit of continuity the last couple of weeks," Woolf said.
"This has certainly helped with our combinations, both in the halves and edges,"
"They get more of an understanding of how each other plays and what their roles are,"
"It's going to be a real challenge this weekend, with the Pride going so well,"
"They have a really good side and have been performing well,"
"The last time we played them in round 3 that beat us, and that will add to their confidence,"
"We are going to have to play our best."
Utility Temone Power will fill the position at left edge, made vacant by Jake Marketo, who is out on a one week suspension.
"Temone has been doing a terrific job this season, wherever we have put him," Woolf said.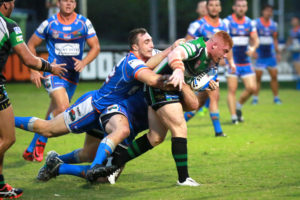 "Left edge back row was his favoured position before coming to the Mendi Blackhawks, so this is another opportunity for him to show us what he can add."
Davin Crampton and Bacho Salam have both been named on the extended bench for the first time this year and have both been impressing the coaching staff.
"Bacho and Davin have been training really well," Woolf said.
"Unfortunately for Davin he hasn't been able to spend a lot of time on the field still recovering from previous injuries, but he's certainly getting closer to 100%,"
"Bacho has only just joined the club recently, but he is also doing a terrific job at training and local league and certainly knocking on the door for an opportunity."
Both Mendi Blackhawks teams are currently sitting on top of the Intrust Super Cup and Hastings Deering Colts Under 20's ladders, but are expecting a challenging final 9 rounds of the regular season, starting with this weekend.
"I'm expecting the level of competition to really increase as we head to the back end of the season," Woolf said.
"The quality of all teams tend to go up, and that's what we need to do,"
"There is a lot of footy to play yet, but we've put ourselves in a really good position for this time of the year, but a lot can change as well,"
"It's up to us now to make the most of every game going forward, and if we do that, we can hopefully put ourselves in a position to play finals footy again."
Teams will be finalised over the next couple of days as to who will make the trip to the Tablelands.

Intrust Super Cup – Round 16 
Mendi Blackhawks V Northern Pride
6pm, Atherton Showgrounds
1 Zac Santo
2 Jonathon Reuben
3 Levi Dodd
4 Ty Carucci
5 Kalifa FaiFai-Loa
6 Shaun Hudson
7 Jaelen Feeney
8 Cade Maloney
9 Krys Freeman
10 Rod Griffin
11 Temone Power
12 Andrew Niemoeller (c)
13 Joe Boyce
14 Davin Crampton
15 Jordan Drew
16 Ross Bella
17 Bacho Salam
19 Brent Woolf
22 Sione Lousi
COACH: KRISTIAN WOOLF

Hastings Deering Colts – Round 16
Mendi Blackhawks V Northern Pride
4.30pm, Atherton Showgrounds
1 Marshall Hudson
2 Lindsay Kirk
3 Thomas McCagh
4 Lance Folbigg
5 Jake Riley
6 Samuel Martin Savage (c)
7 Adam Cook
8 Jayden Stephens
9 Sean Mullaney
10 Logan Bayliss Brow
11 Campbell Duffy
12 William Fox
13 Tom Gilbert
14 Izaak Toby
15 Solomon Vasuvulagi
16 Jack Althaus
17 Ben Condon
COACH: DAVID TANGATA-TOA
* Both teams to be confirmed.