Blackhawks shut out Tigers
Monday, June 11, 2018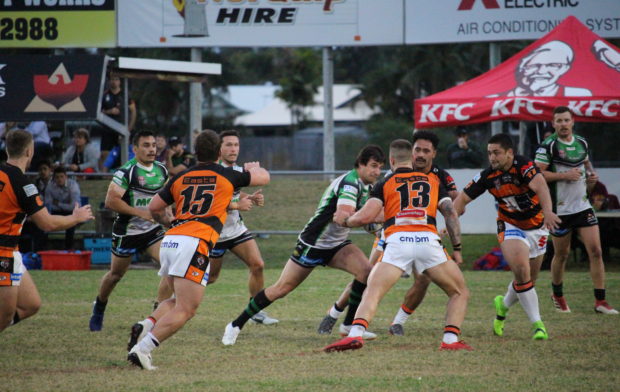 Photo by Blackhawks Media
Dylan Morris QRL Website Sat 9 Jun 2018, 09:57 PM
The Townsville Blackhawks have completed a perfect shutout of the Easts Tigers in the Intrust Super Cup, piling on 32 unanswered points at Jack Manski Oval.
The win allowed the Blackhawks to gain on the first-placed Burleigh Bears.
Townsville are now sitting two competition points behind the ladder-leaders in outright second, at least until the Dolphins play the Norths Devils; with that match deciding if they remain equal second or drop to third.
Blackhawks coach Kristian Woolf was pleased with his side's defence throughout the game.
"Easts are a very good attacking side, particularly with the six (Billy Walters), seven (Brodie Croft) and one (Scott Drinkwater) they've got there and they certainly asked plenty of questions," Woolf said.
"I don't think the score line was a real reflection of the way the game went, it was a very tight, very physical contest for the majority of it as tends to happen we were able to find a couple of late tries."
Woolf was also impressed with the consistency and quality of football his side displayed across the field.
"I thought we had a lot of players who really did a good job, I was really happy with our two leaders Andrew Niemoeller (who scored in each half for a double) and Jake Marketo, I thought they did a terrific job," he said.
"I was really happy with our middle forwards as well … in particular our two young guys who have sort of come through and really developed this year in Cade Maloney and Temone Power and they're just getting better and better for every run they have and I thought they did a really good job today."
The Blackhawks will take on the Mackay Cutters in Round 15, but Woolf was wary of any complacency and was eager to see his side improve on certain aspects of their performance.
"There's a lot of good to take out of that game; obviously our defence is one part and our control with the ball and our patience with the ball is another thing we can take out of it.
"There's a lot of good to take out of it, there's also a lot of improvement areas too, we've got a lot of improving in us but we're very happy with how we're coming along as a team."
TOWNSVILLE BLACKHAWKS 32 (Andrew Niemoeller 2, Ty Carucci, Shaun Hudson, Zachary Santo, Kalifa Faifai-Loa tries; Levi Dodd 3, Jaelen Feeney goals) def EASTS TIGERS 0 at Jack Manski Oval.