Rd 13 Results
Monday, June 4, 2018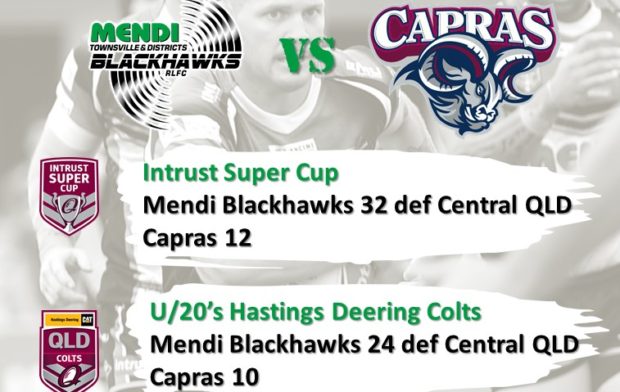 ORIGINALLY PUBLISHED QRL Media – 
https://www.qrl.com.au/news/20182/06/02/coal-train-racks-up-minutes-but-hawks-prevail/
Dave Taylor played close to 70 minutes for the depleted Central Queensland Capras, but couldn't save them from a fifth straight loss, as they plummeted to a 32-12 defeat against Townsville.
Normally much stronger at home than on the road, the Capras were behind from start to finish at Browne Park against one of the competition heavyweights.
Captain Jack Madden, hooker Billy Gilbert and key forward Bill Cullen were all missing for CQ, who have now lost nine of 12 games this season.
Townsville led 14-6 at halftime after failing to convert their first two tries, but blew out to 26-6 before Nathan Bassani crossed three minutes before fulltime to add a touch of respectability for the Capras.
Blackhawk Temone Power replied in the dying seconds to pad out the final score.
While prop Cade Maloney was named the Hastings Deering Man of the Match, Jonathon Reuben posted a double in yet another slick display, and five-eighth Jaelen Feeney was another to impress.
Maloney has credited his resurgent form to rediscovering his love of rugby league in recent months.
He returned to Townsville after an unhappy end to his time in the National Youth Competition.
Coach Kristian Woolf recently told the media he enjoyed coaching Maloney because "every time he runs, every time he tackles, there's a real physicality".
In a few positive signs for the Capras, former Test and Origin representative Taylor managed to last 67 minutes on the Browne Park turf, playing the entire second half after a brief break in the opening stanza.
Young Yeppoon product Jace O'Neill made his Intrust Super Cup debut in the same match, receiving his jersey before the game from another ex-Origin player in John Buttigieg.
Next week the Mendi Blackhawks hosts Easts at Jack Manski Oval.
BLACKHAWKS MEDIA
A double win on the road for the Townsville and Districts Mendi Blackhawks, Intrust Super Cup team and Under 20's against the Central QLD Capras on the weekend.
The wins sees both teams remain in the top 6, with the under 20's on top of the Hastings Deering Colts competition.

Mendi Blackhawks 32 def Central Capras 12
Tries:
Jake MARKETO (13m)
Kalifa FAIFAI-LOA (20m)
Jonathon REUBEN (37m)
Jonathon REUBEN (55m)
Jaelen FEENEY (72m)
Temone POWER (79m)
Conversions:
Levi DODD (38m)
Levi DODD (57m)
Levi DODD (73m)
Levi DODD (80m)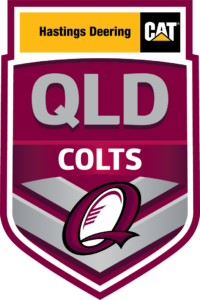 Mendi Blackhawks 24 def Central Capras 10
Tries:
Marshall HUDSON (12m)
Campbell DUFFY (23m)
Solomon VASUVULAGI(38m)
Jayden STEPHENS (58m)
Adam COOK (14m)
Adam COOK (25m)
Adam COOK (39m)
Adam COOK (60m)