Rd 12: Results
Monday, May 28, 2018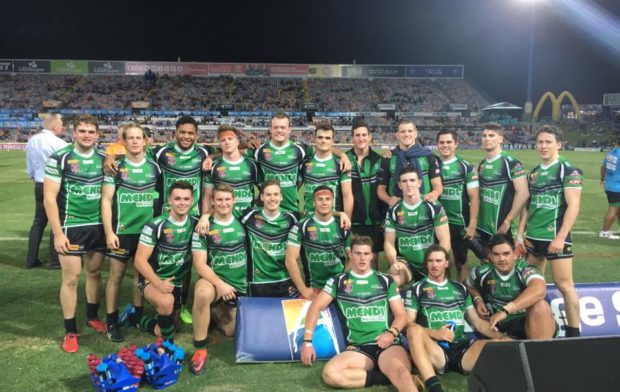 BLACKHAWKS MEDIA
The Under 20's Mendi Blackhawks celebrating their 52-0 win over the Western Mustangs on Friday night at 1300Smiles Stadium.  The win keeps the team at the top of the Hastings Deering Colts competition.
The Intrust Super Cup team touched down this morning after a tough trip to PNG, going down 12-8 to the Hunters.
Next week both teams travel to Rockhampton to take on the Capras.
ROUND 12 RESULTS
Intrust Super Cup        
Mendi Blackhawks 8 PNG Hunters 12
Tries 
Ty CARUCCI (15m)
Kalifa FAIFAI-LOA (79m
Hastings Deering Colts Under 20's 
Mendi Blackhawks 52 Western Mustangs 0
Tries
Lachlan LA ROSA (7m)
Sean MULLANY (10m)
Lindsey KIRK (13m)
Lindsey KIRK (17m)
Marshall HUDSON (22m)
Campbell DUFFY (24m)
Adam COOK (44m)
Tom MCCAGH (47m)
Lachlan LA ROSA (51m)
Sean MULLANY (66m)
Conversions
Adam COOK (14m)
Adam COOK (23m)
Brodie CHAFFEY (25m)
Adam COOK (45m)
Adam COOK (52m)
Adam COOK (67m