Zac's Back!
Wednesday, May 16, 2018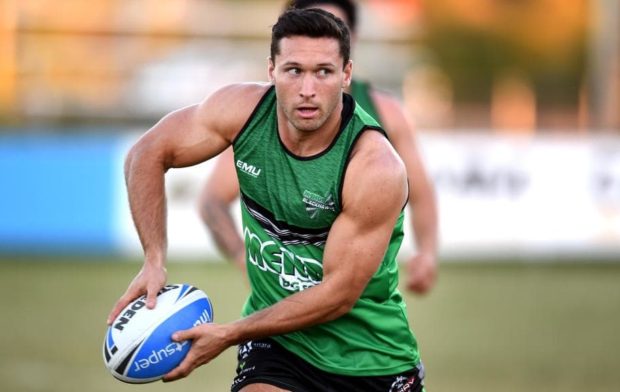 Zac Santo rejoins the Mendi Blackhawks in 2018.  Photo courtesy of Alix Sweeney – Townsville Bulletin.
BLACKHAWKS MEDIA
We are proud to announce that 2015 Mendi Blackhawks inaugural player Zac Santo has returned back to the club for the remainder of the 2018 season.
Since leaving Townsville, the former Charters Towers junior spent a year at the Canberra Raiders in 2016, then moved to New Zealand at the start of 2017 where he remained until his move earlier this week.
Santo was the highest try scorer for the 2015 season, with 31 tries, including 28 in the regular season and 3 in the final series, and played in the club's first and only grand final game.
Coach Kristian Woolf said he is very pleased to have Santo back in the squad.
"Zac is local player and has come through all of the Townsville development pathways," Woolf said.
"It was good to see him sign an NRL contract, because players like Zac are part of the reason why we wanted to set up the club originally," Woolf said.
"There are quite a few guys in team that he has played with previously, and everyone's excited to have him back, he won't have any trouble fitting straight back in,"
"Essentially Zac is a full back, but he has plenty of versatility,"
"He's always been very quick and good on his feet, and at this stage, he's come back looking stronger."
Woolf also coached Santo in the 2011 Cowboys U/20's grand final side, in which he scored 2 tries, including one at the end almost giving them a chance to win to game.
"There is a common trend with Zac player so many finals games,"
"He certainly knows how to win and how to help a team win."
This Sunday the Mendi Blackhawks will take on Wynnum Manly in round 11 of the Intrust Super Cup after a bye round last week.
Mendi Blackhawks Captain Andrew Niemoeller has been named on the bench after recovering from a shoulder injury.
Mendi Blackhawks V Wynnum Manly
2pm Sunday, May 20
Jack Manski Oval
1 Jonathon Reuben, 2 Levi Dodd, 3 Shaun Hudson, 4 Ty Carucci, 5 Kalifa Faifai-Loa, 6 Jaelen Feeney, 7 Zach Dockar-Clay, 8 Francis Molo, 9 Krys Freeman, 10 Rod Griffin, 11 Jake Marketo, 12 Temone Power, 13 Joe Boyce, 16 Ross Bella, 17 Cade Maloney, 19 Brent Woolf, 22 Sione Lousi, 18 Andrew Niemoeller.