Marketo Hopeful of Living on the Edge
Wednesday, April 4, 2018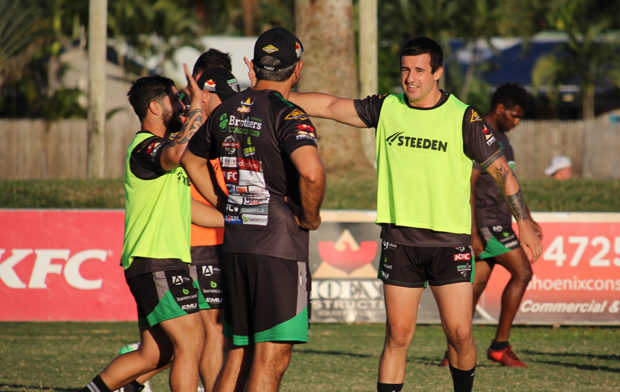 Jake Marketo and Zach Dockar-Clay at training with the Mendi Blackhawks last week. Photo Blackhawks Media
Originally Published in the Townsville Bulletin by Jon Tuxworth
April 4, 2018 12:00am
https://www.townsvillebulletin.com.au/sport/marketo-hopeful-of-living-on-the-edge/news-story/bd3e42109f3be5789e1ce1064d8cc123
JAKE Marketo is hopeful his cameo as Townsville Blackhawks five-eighth is over with regular no. 6 Zach Dockar-Clay considered a strong chance of returning from injury for Saturday's home clash with Tweed Heads.
After Dockar-Clay failed to beat a corked quad Marketo was thrust into the halves in last week's loss at Redcliffe, the team's third straight Queensland Cup defeat.
But the former St George Illawarra Dragon is confident he will return to the back row with Dockar-Clay tracking well for a return.
"He got a cork in round one and continued to play and then got hit again," Marketo said.
"It turned into a contusion and he couldn't bend his leg, so he was touch and go last week and the club didn't want to risk it.
"It was a bit difficult only having two tricing sessions to get used to it (playing in the halves). "I played all my juniors at five eighth but obviously it's a lot different having not played there for over a decade."
Marketo said they missed the crisp combination Dockar-Clay and former Newcastle Knight Jaelen Feeney are forming, and has his fingers crossed they will reunite against the wines Seagulls.
"We missed that bit of cohesion without Zach. He's a good talker and defender, and obviously a natural half," Marketo said.
The Blackhawks are yet to settle on a replacement for prop Corey Jensen, who has been promoted to the Cowboys in place of the injured Jordan McLean.
The clash will be televised on Channen Nine from 1pm, where Blackhawks coach Kristian Woolf will battle his brother and Tweed Heads coach Ben.