Townsville Blackhawks – Mackay 56-12 in Season Opener
Monday, March 12, 2018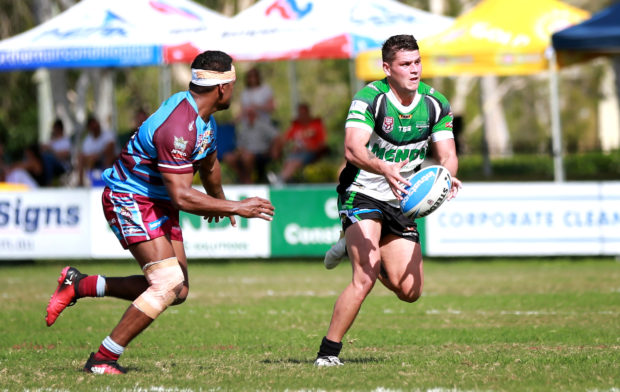 Carlin Anderson in action against the Mackay Cutters in Round 3 last year, and scored 24 points on the weekend.
ORIGINALLY PUBLISHED ON THE TOWNSVILLE BULLETIN WEBSITE BY TRENT SLATTER
March 11, 2018 6:39pm
https://www.townsvillebulletin.com.au/sport/townsville-blackhawks-thrash-mackay-5612-in-season-opener/news-story/801f4f2a523736a6a18a3ec39c129936
THE Townsville Mendi Blackhawks have announced themselves as the team to beat in the Queensland Cup this season after thumping the Mackay Cutters 56-12 in their opening game in Mackay on Saturday night.
Michael Carroll, Jonathon Reuben, and Carlin Anderson all scored doubles while Anderson also booted eight goals as the Mendi Blackhawks ran rampant against their North Queensland rivals.
The 44-point thrashing was the equal third biggest win in the club's history, but coach Kristian Woolf said he was more pleased to see the team's new combinations coming together after a limited preseason with just the one trial match.
"We certainly didn't expect the scoreline to end up what it did, but I'm very happy with the way our blokes went about their business and the way they performed, especially considering it's our first real game together," the coach said.
Mackay drew first blood as skipper Jack Joass slipped through a hole in Townsville's defence after just two minutes, but the Mendi Blackhawks were quick to respond through rookie winger Carroll.
Reuben soon scorched away for an 80-metre try and from there the floodgates opened with five unanswered tries, including a double to Carroll, as they went into halftime leading 30-6.
Former Hull KR halfback Zach Dockar-Clay ensured the Mendi Blackhawks picked up right where they left off in the second half, slipping under the Cutters goal line defence to score.
Mackay finally hit back as Blake Atherton scored out wide, but Townsville had too much firepower as Reuben and Anderson completed their try doubles to help seal an impressive win.
It was the perfect start for Townsville's new-look spine, with halves Dockar-Clay and Jaelen Feeney and hooker Krys Freeman all scoring tries, and Woolf praised their commitment to playing attacking footy despite the difficult weather conditions.
"There's things that they can improve on, but overall they did a really good job. When you find 56 points, the halves are certainly a big part of that," Woolf said.
"It was pretty ordinary conditions. It was really windy and fairly wet and both teams made a fair few errors and there were a few unforced errors and it certainly limited things a little bit.
"At times we probably pushed things a little bit too much for the conditions, but we certainly didn't go into a negative mindset in the way we played.
"We played some really positive footy which is why we were able to come up with so many points."
Meanwhile, the Mendi Blackhawks under-20s started their season with a 30-6 win over Mackay while the under-18s went down to the Cutters 24-8.
TOWNSVILLE MENDI BLACKHAWKS 56 (Michael Carroll 2, Jonathon Reuben 2, Carlin Anderson 2, Jaelen Feeney, Zach Dockar-Clay, Krys Freeman, Kalifa Faifai-Loa tries; Carlin Anderson 8 goals) def MACKAY CUTTERS 12 (Jack Joass, Blake Atherton tries; Nicholas Hynes 2 goals) at BB Print Stadium, Mackay.