UNDER 20's Mendi Blackhawks Name Team & Captains for Round 1
Friday, March 9, 2018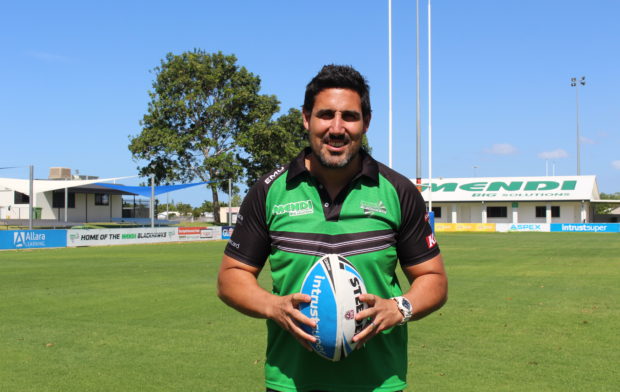 Coach David Tangata-Toa finishes final preparations for the Under 20's Round 1 game.
BLACKHAWKS MEDIA
It's been a busy pre-season for Coach of the Mendi Blackhawks Under 20's David Tangata-Toa, who came in late after his call up as Assistant Coach to Tonga in the World Cup.
Today, he has announced his team and captains for Round 1 of the Hastings Deering Colts against the Mackay Cutters, in Mackay this Saturday.
"I have named Co-captains for the Mendi Blackhawks Under 20's this year," Tangata-Toa said.
"Sam Martin Savage and Duarne Dempsey will lead the team this year,"
"I'm confident both boys will do a great job leading by example,"
"They have already proven to be respected leaders on and off the field, each bringing different qualities with them."
"Sam is very calming and doesn't get too emotional, and Duarne is an exceptional communicator."
Tangata-Toa said he was looking forward to finally watching his team play this weekend.
"It's been a tough pre-season, but now I'm just looking forward to seeing all their hard work put into action."
"It was difficult giving all of the boys a decent amount of game time in our first trial match, and the second one was washed out,"
"But it's built up now for an exciting start, and hopefully we can get the first points on offer."
Hastings Deering Colts
Mendi Blackhawks V Mackay Cutters
4pm Saturday, March 10
BB Print Stadium, Mackay
1  Marshall Hudson
2  Thomas McCagh
3  Lance Folbigg
4  Sam Martin Savage (C)
5  Jake Riley
6  Sean Mullany
7  Brodie Chaffey
8  Jayden Stephens
9  Brent Woolf
10  Logan Bayliss-Brow
11  Nathan Barrett
12  Duarne Dempsey (C)
13  Jack Glossop
14  Lachlan Taylor
15  Yaza Stephen
16  Solomon Vasuvulagie
17  Thomas Conn
18  Fred Lemson
COACH: DAVID TANGATA-TOA