UNDER 18's Mendi Blackhawks Name Team & Captain for Round 1
Friday, March 9, 2018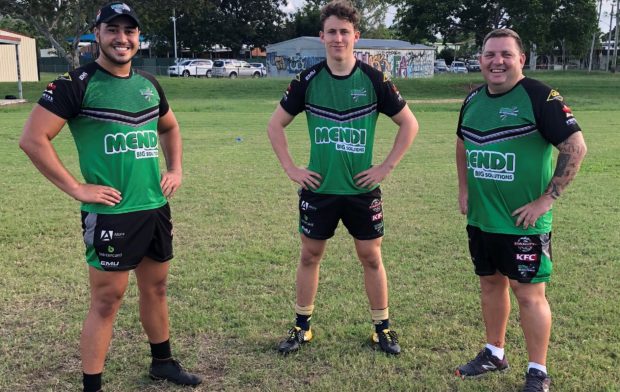 Mendi Blackhawks Under 18 Captain Hamilton Taia, Vice Captain Adam Cook and Coach Cameron Miller.
BLACKHAWKS MEDIA
Coach of the Mendi Blackhawks Under 18's Cameron Miller, has announced his team and captain for Round 1 of the Mal Meninga Cup against the Mackay Cutters, in Mackay this Saturday.
"It was a difficult decision naming the first team this week," Miller said.
"All the boys have a fantastic attitude and have done everything I have asked from them,"
"In our trial matches, they all put their best foot forward for selection,"
"And now, after what seems like a long pre-season, I'm just happy for boys to get back out on the field, and represent the Townsville Mendi Blackhawks with great pride, and making sure we are competitive each game."
Miller has named Hamilton Taia as Captain for 2018 and Adam Cook Vice Captain.
"Hamilton has shown me really good leadership qualities with his actions on the field, and has stood up as someone the rest of the team can rely on, along with Adam Cook."
"I am really excited about seeing them work together, and what the season will bring."
Mal Meninga Cup
Mendi Blackhawks V Mackay Cutters
2pm Saturday, March 10
BB Print Stadium, Mackay
1  ZINZAN MARTIN
2  KAYLEB VOSSELOR
3  TY EVERETT
4  IZAAC LOCKE
5  DYLAN BAYLISS BROW
6  ADAM COOK (VC)
7  CURTIS DEMPSEY
8  QUINLAN KELLY
9  MITCHELL FOGARTY
10  KIERAN MORAN
11  HAMILTON TAIA (C)
12  BEN CONDON
13  JACSON LOTT
14  JOEY JENSEN
15  BOHDI KERSH
16  DANE THOMPSON
22  MALACHAI RETCHFORD
18  CAMERON BATEUP
COACH: CAMERON MILLER