Marketo back in the game after Romanian sojourn
Monday, January 22, 2018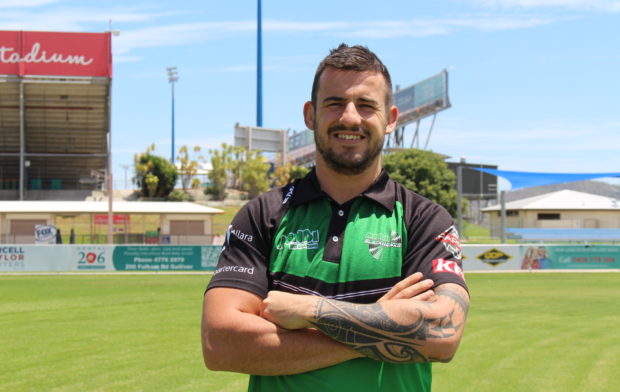 Welcome to the Mendi Blackhawks Jake Marketo Photo: Blackhawks Media
ORIGINALLY PUBLISHED Jon Tuxworth, Townsville Bulletin
January 20, 2018 12:00am
http://www.townsvillebulletin.com.au/sport/marketo-back-in-the-game-after-romanian-sojourn/news-story/db5002dee65f748f3bf684772a5434d0
From minus-ten degrees and not getting paid on time in Romanian rugby, to the blistering heat of North Queensland.
It's fair to say Townsville Blackhawks recruit Jake Marketo has endured a topsy-turvy" 12 months after he was cut by St George-Illawarra.
But after his overseas jaunt didn't go to plan, the 28-year-old hopes his Queensland Cup stint will open another NRL door.
Marketo played 36 of his 51 NRL games for the Dragons in 2015 and 2016, but the City Origin representative managed just one last year.
The back rower was offered a deal by the Mendi Blackhawks before heading to Romanian rugby side Timisoara Saracens, but wanted a break from league.
But after growing up on the sandy beaches of Wollongong, readjusting to the 13-man game won't be his biggest challenge.
"The (Romanian) weather was probably the biggest one, there was days where you wouldn't see the sun until 10.30 in the morning, and it went down at 3.30pm," Marketo said.
"You wouldn't go outside once the sun goes down. The coldest was minus ten and one day we trained it was minus five and windy and raining, you can imagine how good I was going.
"I didn't leave the locker room until we had to run out, and when we were done I was straight back in to the heater."
When talk started to filter through the payments for some players weren't arriving on time, Marketo made the decision to return home.
"Three or four weeks into it I started seeing things that it wasn't run the best, so I thought it would be best I got out of there," Marketo said.
"The Mendi Blackhawks had offered me something and I still felt like I wanted to play footy.
"Some people weren't getting paid and it wasn't run how a proper professional competition should be run.
"I didn't want to be stuck over there not being paid, some hadn't been paid for months and I didn't want to be in a position like that."
Marketo said he hasn't given up on getting a chance to revive his NRL career.
"That's every footy player's goal if you're not in a system to get back there," Marketo said.
"I've been involved in an NRL system since I was 18 or 19 and it's obviously a goal.
"Anything can happen, I was in Romania two months ago and now I'm in north Queensland.
"If I'm doing everything right, anything can happen.
"It's hasn't been an ideal footy year and it was very disheartening and frustrating at times, but that's the way footy goes sometimes."
Marketo is rooming with former Dragons teammate Kalifa Faifai Loa and believes the Blackhawks have the squad to be contenders.
"Everyone outside the club has been saying we've got a fair chance," he said.
"We haven't looked too much into it, we're just making sure we're training hard and we haven't had a trial yet."