Santi flies again with Mendi Blackhawks
Wednesday, January 3, 2018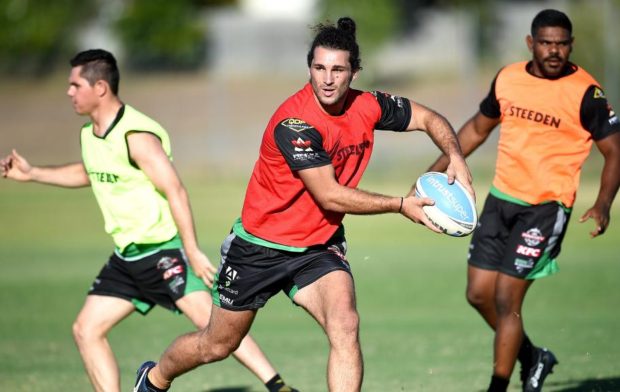 Look who's back!  Brenden Santi has returned north to the Mendi Blackhawks in 2018 Photo: Alix Sweeney
ORIGINALLY PUBLISHED MICHAEL THOMPSON, Sports reporter, Townsville Bulletin
December 23, 2017 12:00am
http://www.townsvillebulletin.com.au/sport/santi-flies-again-with-blackhawks/news-story/268ff32e9b8c339e3cfb4a62547e412d
RETURNING to Townsville during Italy's Rugby League World Cup campaign must have seemed like fate for Brenden Santi and the Townsville Blackhawks.
Santi has re-signed with the Blackhawks after spending the 2017 season at the Sydney Roosters, where he played all games for feeder club Wyong Roos.
The former West Tigers squad member played for the Blackhawks in 2016, and on the back of his consistent season earned a contract at the Roosters.
Gaining selection for Italy at this year's World Cup, Santi played in the Azzuri's tournament opener against Ireland in Cairns before playing against the USA in Townsville last month, after which off-contract Santi caught up with Blackhawks officials.
"We spoke to him while he was here with Italy," Blackhawks operations manager Adrian Thomson said.
"He and his manager were obviously looking for something in the NRL, but we had a spot there for him and when other options dried up we were more than happy to have him come back.
"Brenden had a really good World Cup, and a big thing for us is that he knows our style of play.
"I think it's really good for both parties."
Santi has trained with the Blackhawks twice, including Thursday night's final pre-season session of the year, and will return when the Blackhawks resume training on January 3.
His inclusion provides further depth to the Blackhawks' front row stocks, which took a hit following the departures of 2017 player of the year Blake Leary (Burleigh Bears), captain Anthony Mitchell (retirement) and 2015 Q Cup prop of the year Daniel Beasley (France).
Thomson said Santi, 24, still had his eyes on an NRL career.
"Absolutely, and we figured we'd give him the opportunity to keep doing that," he said.
"Most Q Cup clubs are an NRL steeping stone, and we want all our players to be pushing for NRL.
"We also want to have competition within our squad, so that players are competing for their spots.
"Brenden will be an important factor for us, and he comes back as a leader as well.
 "We have a lot of young talent coming through and a lot of new faces, which is exciting, and Brenden will give us some extra leadership."
Former Cowboys hooker Ray Thompson, who played a number of games for the Blackhawks, was also spotted at Blackhawks training on Thursday, with the Centrals junior assisting coaching staff throughout the session.
Thompson will be an assistant coach to Cowboys legend and incoming Centrals head coach Matty Bowen during next year's TDRL season.