NRL dream nearby for Dockar-Clay
Friday, December 22, 2017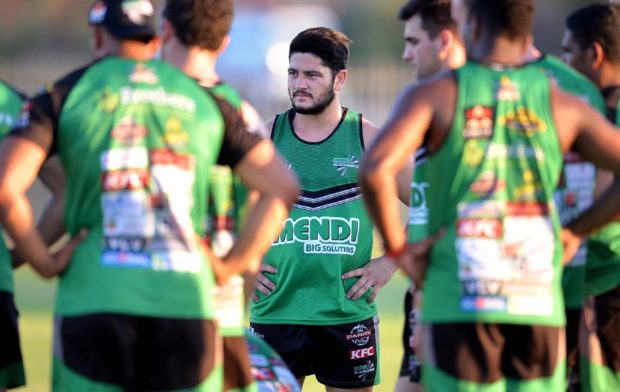 Zach Dockar-Clay at Mendi Blackhawks training, Jack Manski Oval. Picture Alix Sweeney
PUBLISHED IN THE TOWNSVILLE BULLETIN – MICHAEL THOMPSON, Sports reporter
December 22, 2017 12:00am
http://www.townsvillebulletin.com.au/sport/nrl-dream-nearby-for-dockarclay/news-story/bb327ca80e457ae6e62496b8e4823b7c
Townsville Mendi Blackhawks recruit Zach Dockar-Clay may have sacrificed a white Christmas for a scorching North Queensland summer, but he did it all in the name of opportunity.
Dockar-Clay, a former Parramatta Eels under-20s star and Penrith Panthers reserve grade captain, signed with the Mendi Blackhawks after playing one season of Super League with Hull Kingston Rovers.
It may have been his first season of professional rugby league, and he was playing under the direction of former Australian Kangaroos coach Tim Sheens, but when it came to edging closer to his NRL dream Dockar-Clay couldn't help but feel he was out of sight, out of mind.
"England was great, I loved it there and the team was good, and being coached by Tim Sheens was another bonus for me," Dockar-Clay said.
"But I think unless you're one of the top five English players, it's hard to get a gig in the NRL if you're over there.
"Being 22 and still young, I wanted that drive to get an NRL spot.
"It's the best thing for my career, being here at the Mendi Blackhawks, and it will make my NRL chances a lot better being in a good side."
Dockar-Clay is part of an intriguing pre-season battle for one of the Mendi Blackhawks halves positions, with Newcastle Knights recruit Jaleen Feeney intent on being halfback, while Cowboys allocation Kyle Laybutt is a strong chance of retaining his No. 6 role.
Proserpine junior Sam Foster has also been a reliable playmaking option during his two years at the Mendi Blackhawks.
"It's going to be tough and there's a lot of guys who can play in the halves, and it pushes me harder to be at my best and be training better," Dockar-Clay said.
"That's what you have to do, be better than what they are.
"They do the exact same thing, they're trying to be better than me, but it's definitely driving me to be at my best and I think that's good for myself and the Blackhawks.
"If I get the opportunity I'll take it with both hands."
As is the case with many Mendi Blackhawks recruits, Dockar-Clay was surprised to find Cowboys headquarters and 1300SMILES Stadium located right next door to the Blackhawks.
The symbolism is not lost on Dockar-Clay.
"We're just a couple of footsteps away from the Cowboys home ground and obviously that's the dream, to be playing on the big stage" he said.
"Hopefully a good solid season here can see me over there."
The Mendi Blackhawks will resume pre-season training in the New Year after holding their final training session of 2017 overnight, and for Dockar-Clay that means exploring more of his new hometown.
"I've just been cruising down the beach lately, especially living in Sydney and being in England, I've never lived so close to the beach," he said.
"I'm living in town at the moment, so I'm taking advantage of that.
"I love playing a bit of golf too, but I've heard a few stories of crocodiles being in the creek there, so I might stay away from the golf course for a few weeks."