Hunters Not Coming to Jack Manski
Thursday, December 14, 2017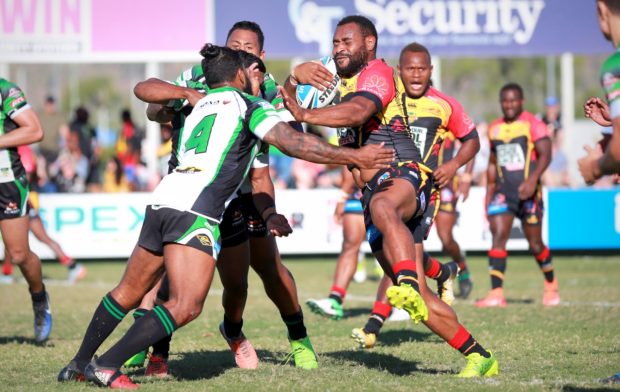 PUBLISHED IN THE TOWNSVILLE BULLETIN
MICHAEL THOMPSON, Sports reporter, Townsville Bulletin
December 13, 2017 1:11pm
http://www.townsvillebulletin.com.au/sport/hunters-not-coming-to-jack-manski/news-story/0ab20cacf5e520ab65f940629e0626b3
THE Townsville Blackhawks will miss out hosting Queensland Cup premiers the PNG Hunters for the first time.
The Q Cup released its 2018 draw today, and in a significant blow to local league fans the Hunters will not be visiting Jack Manski Oval in what had become an annual footy showpiece.
The Blackhawks will play the Hunters once, with the clash taking place at Port Moresby's National Football Stadium in Round 12.
Blackhawks operations manager Adrian Thomson said the club was reasonably happy with the draw, which sees the Blackhawks playing four of their first six games way from home.
Blackhawks fans will have to wait until Round 3 (Saturday, March 24) to see the Blackhawks play at home when they host the Northern Pride.
They Blackhawks also have a tough run home, with five of their final six games being played away, including their final two against Burleigh and Wynnum-Manly respectively.
"It's structured so that we're away a fair bit early, and we're definitely away a lot late in the season, but we have a lot of home games through the middle part of the year," Thomson said.
"We're happy that the QRL have given us requests; we always request our home game around the ANZAC DAY weekend, and they've met that, and we also requested to have a home game on May 5-6 which coincides with the state under-15 carnival here at Jack Manski Oval.
"But we need to set ourselves up early (in the season), like most clubs, and having one home game in the last six rounds is going to be difficult, but we have to play them."
The Blackhawks kick off the season with a North Queensland derby against the Mackay Cutters in Mackay on Saturday, March 10, and play their first TV game against keen rivals the Ipswich Jets in Round 2 the following Saturday at midday.
Their first home clash at Jack Manski Oval is against the Northern Pride, who may play Todd Carney if the former NRL star does not receive a first-grade lifeline.
But of all the drawcards the Blackhawks have brought to Jack Manski in recent seasons, including the Redcliffe Dolphins and Jets, none surpass the Hunters in terms of crowd numbers and theatre.
"The Hunters draw the biggest crowds at all the (Q Cup) clubs, and just the atmosphere they create is fantastic," Thomson said.
'From a footy side of things, playing them once is probably good.
'But from a crowd perspective … it's a little disappointing they won't be coming here.
'But look, it's the way the competition is structured.
'It's our turn this year (to miss out), so we just have to get on with it."
The Q Cup's Country Week will be played in Round 19, with the Blackhawks to play Tweed Heads at a yet to be announced regional venue.
Blackhawks 2018 Q Cup draw.
1) Mar 6pm Away MACKAY CUTTERS BB Print Stadium, Mackay
2) Mar 12pm (TV game) Away IPSWICH JETS North Ipswich Reserve
3) Mar 6pm Home NORTHERN PRIDE Jack Manski Oval
4) Mar 6pm Away REDCLIFFE DOLPHINS Dolphin Stadium
5) April 5pm Home TWEED HEADS Jack Manski Oval
6) April 5pm Away SC FALCONS Sunshine Coast Stadium
7) April 4pm Home NORTHS Jack Manski Oval
8) April 4pm Home SOUTHS Jack Manski Oval
9) May 5pm Home BURLEIGH Jack Manski Oval
10) 12-13 May BYE
11) May 4pm Home WYNNUM Jack Manski Oval
12) May 3pm Away PNG National Football Stadium, Port Moresby
13) June 7pm Away CQ CAPRAS Browne Park
14) June 5pm Home EASTS Jack Manski Oval
15) June 6pm Home MACKAY CUTTERS Jack Manski Oval
23-24 June BYE ROUND
16) June 6pm Away PRIDE Barlow Park, Cairns
17) July 5pm Home SC FALCONS Jack Manski Oval
18) July 5pm Home IPSWICH Jack Manski Oval
19) 21-22 July TBA Away TWEED HEADS COUNTRY WEEK
20) July 3pm Away SOUTHS Davies Park
21) Aug. 7pm Away NORTHS Bishop Park
22) Aug. 5pm Home REDCLIFFE Jack Manski Oval
23) Aug. 4pm Away BURLEIGH Pizzey Park
24) Aug. 7pm Away WYNNUM BMD Kougari Oval