Blackhawks Casting Wide Net
Thursday, December 14, 2017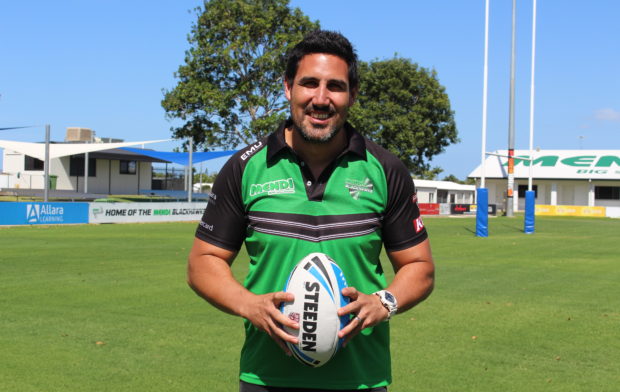 Mendi Blackhawks U/20 Coach David Tangata-Toa will hold trials for talented players to join his team in 2018.
Published in the Townsville Bulletin MICHAEL THOMPSON, Sports reporter, Townsville Bulletin
December 14, 2017 12:00am
http://www.townsvillebulletin.com.au/sport/blackhawks-casting-wide-net/news-story/29ad0ec9d3a8a8c0492916148cfdd416
THE Townsville Blackhawks are eager to throw the net far and wide in the search of talent for their under-20s team.
Spots have opened up in the inaugural Blackhawks' under-20s squad following the withdrawal of a handful of players, leading club officials to hold a team trial on January 13.
"We had a squad of 30 to start off with, but we're down to 21 now, so probably need a few more to add to the squad to go through the under-20s season," Blackhawks under-20s coach David Tangata-Toa said.
"We thought we'd open it up to the local community, because as a club we want to see young local players represent the Blackhawks, not only in under-20s but down the line in Q Cup.
"That's the main reason why we've opened trials in January."
The dissolution of the nationwide Holden Cup under-20s competition at the end of this season, which included the Cowboys under-20s team, has led to the establishment of the statewide Hastings Deering under-20s competition starting next season.
The new competition is aligned with the Queensland Cup, meaning the Blackhawks under-20s will play against under-20s teams from other established Q Cup clubs, as well as a team from Victoria.
"For a lot of players it's a new set-up from a local competition, where they might only train two days a week, now they're training four days a week," Tangata-Toa said.
"A lot of it is new to them, but they're all buying in and they're working really hard."
The Cowboys will still retain its under-20s squad, which will train at Cowboys HQ and then allocate its players to its three statewide feeder clubs of the Blackhawks, Northern Pride and Mackay Cutters.
"They train by themselves and then they'll get filtered back (to Q Cup clubs) towards the back end of the week," Tangata-Toa said.
"I think we have three (Cowboys) under-20s players who have been allocated to us, and the rest of those 14 will be allocated to the other two feeder teams."
Blackhawks officials are hopeful of being able to play both their under-20s and Q Cup teams at the same home games.
Tangata-Toa said players outside the Townsville region could also register to trial for the under-20s Blackhawks squad.
"Not only is it open to the Townsville area, but obviously outside of it as well," he said.
"We've had a fair bit of interest through social media from places like Emerald, for example, so hopefully it doesn't just reach Townsville-based players.
Registration details can be found on the Blackhawks website.