2018 Intrust Super Cup Draw Released
Wednesday, December 13, 2017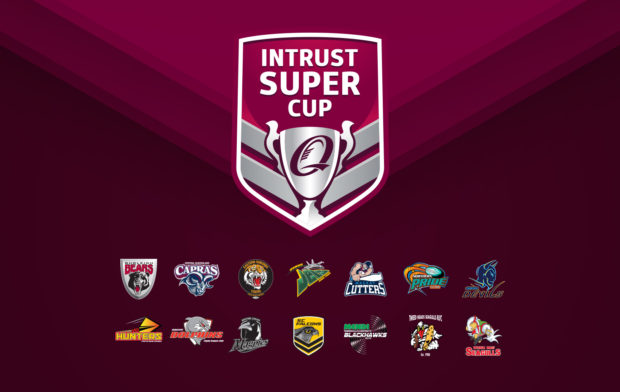 BLACKHAWKS MEDIA
The 2018 Intrust Super Cup Draw has been released today with the Townsville and Districts Mendi Blackhawks kicking off in Mackay, on March 10.
Football Operations Manager, Adrian Thomson said he is reasonably happy with the draw, which includes the Anzac Weekend home game as requested.
"We always look forward to a home game on the ANZAC Round," Thomson said.
"This year we also requested a home game to coincide with the Queensland State Under 15's carnival in early May, which we also got as well,"
"The only disappointing part for us is that we don't host PNG, and they have continually been our largest home crowd of the season."
"We know that a draw is difficult to put together and it isn't easy meeting all requests,"
"We have to eventually play all the teams, so for us, we just have to prepare to start as strong as we can."
The first home game for the Mendi Blackhawks at Jack Manski Oval will be against the Northern Pride on March 24.
| RND | DATE | TIME | HOME / AWAY | OPPOSITION | VENUE | RESULTS |
| --- | --- | --- | --- | --- | --- | --- |
| 1 | Sun, 20 March | 3.30pm | Home | NORTHS DEVILS | Jack Manski Oval | 14-38 |
| 2 | Sat, 26 March | 4pm | Home | BURLEIGH BEARS | Jack Manski Oval | 22-26 |
| 3 | Fri, 1 April | 7pm | Home | WYNNUM MANLY | Jack Manski Oval | 28-12 |
| 4 | Sat, 9 April | 5.30pm | Away | NORTHERN PRIDE | Barlow Park, Cairns | 22-12 |
| 5 | Sun, 24 April | 2pm | Home | TWEED SEAGULLS | Jack Manski Oval | 17-4 |
| 6 | Sat, 30 Apr | 12.15pm | Away | REDCLIFFE DOLPHINS | Moreton Daily Stadium | 29-28 |
| 7 | BYE ROUND | | | | | |
| 8 | Fri, 13 May | 7pm | Home | PNG HUNTERS | Jack Manski Oval | 20-42 |
| 9 | Sat, 21 May | 3pm | Away | IPSWICH JETS | Nth Ipswich Reserve | 40-10 |
| | BYE ROUND | | | | | |
| 10 | Sat, 4 Jun | 4pm | Home | MACKAY CUTTERS | Jack Manski Oval | 18-28 |
| 11 | Sat, 11 Jun | 6pm | Away | CQ CAPRAS | Browne Park | 16-22 |
| 12 | Sat, 18 June | 4pm | Home | BRISBANE TIGERS | Jack Manski Oval | 30-18 |
| | BYE ROUND | | | | | |
| 13 | Sat, 2 July | 4pm | Away | SUNSHINE COAST FALCONS | Sunshine Coast Stadium | 18-28 |
| 14 | Sat, 9 July | 4pm | Home | SOUTHS LOGAN MAGPIES | Jack Manski Oval | 72-0 |
| 15 | Sat, 16 July | 2.15pm | Away | BURLEIGH BEARS | Pizzey Park | 16-30 |
| 16 | Sat, 23 July | 3pm | Country Week | REDCLIFFE DOLPHINS | Burdekin Rugby League Park, Ayr | 22-22 |
| | BYE ROUND | | | | | |
| 17 | Sat, 6 Aug | 12pm | Home | NORTHERN PRIDE | Jack Manski Oval | 10-22 |
| 18 | Sat, 13 Aug | 3pm | Away | PNG HUNTERS | Bycroft Oval | 23-23 |
| 19 | Sat, 20 Aug | 3pm | Away | TWEED SEAGULLS | Piggabeen Sports Complex | 0-42 |
| 20 | Sat, 27 Aug | 5.30pm | Away | NORTHS DEVILS | Bishop Park | 28-36 |
* Draw is subject to change