Zach Dockar-Clay Joins the Mendi Blackhawks
Friday, November 24, 2017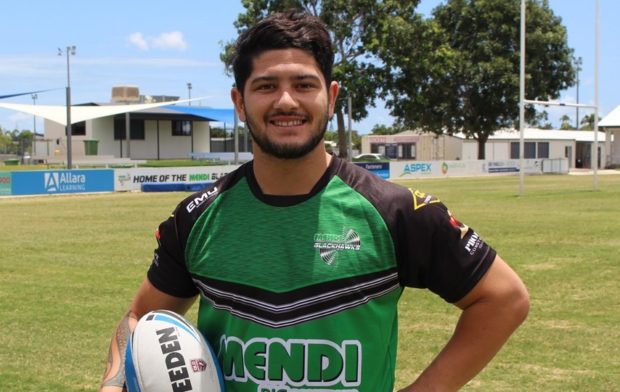 Welcome to the Mendi Blackhawks Zach Dockar-Clay
BLACKHAWKS MEDIA
Former Penrith Panther and Hull KR half-back Zach Dockar-Clay has announced he has signed with the Mendi Blackhawks for a one year contract.
Speaking from Townsville this morning, Dockar-Clay said he is already enjoying the North Queensland lifestyle, after a quick negotiation with Mendi Blackhawks Coach Kristian Woolf, who is currently in camp with the Tonga Rugby League side, and Football Operations Manager Adrian Thomson.
"A couple of weeks ago, my partner Leah and I were freezing in England," Dockar-Clay said.
"To be sitting here in North Queensland, a couple of weeks later, with beautiful warm weather, feels surreal.
"Everyone here has already made us feel welcome, and I'm definitely thinking this is the best move I have done for my career."
"I believe the Mendi Blackhawks have recruited well, after losing some of their main playmakers at the end of last season, and I'm really looking forward to training with them."
Known for his speed and competitiveness, the Mendi Blackhawks will be looking forward to the extra spark that he brings to a team.
"We watched Zach as under 20 player at Parramatta and every game we saw he played extremely hard and competes on everything," Thomson said.
"Zach brings plenty of enthusiasm to a team and we really want him to take control on the field."
"He is coming to us with plenty of experience in only a short time, as a former Captain of the Junior Kiwi's, as well as playing in the Auckland 9's with Penrith, NSW Cup and making the Super League in England winning the championship with Hull KR."
Asked what he likes to do in his spare time, Dockar-Clay said his other passion is golf.
"I've asked a few of the boys about golf around here, but they said there are crocodiles on the courses, so I might have to give it a miss."
Docklar-Clay will commence training with the Mendi Blackhawks this Monday.