Dragons Duo Join the Mendi Blackhawks
Thursday, November 9, 2017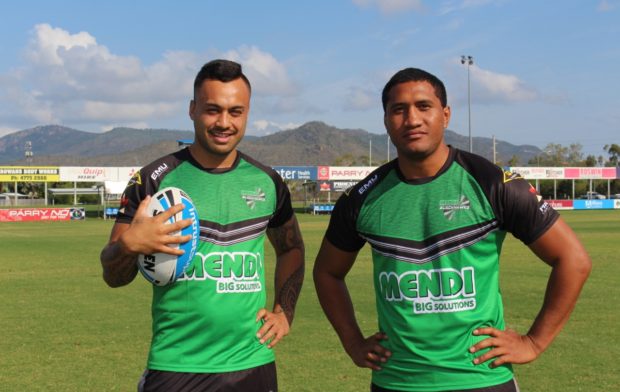 BLACKHAWKS MEDIA
Good friends and former dynamic Illawarra Cutters duo, Kalifa Faifai-Loa and Levi Dodd have arrived in Townsville, both having signed for the 2018 season at the Townsville and Districts Mendi Blackhawks.
The pair formed a dangerous left side combination in there time together, which included winning the NSW Intrust Super Cup Grand Final in 2016.
They have been inseparable since, so when Dodd announced he was heading north, it was an easy decision for the flying winger and ex North Queensland Cowboys player to follow.
"I told Levi to ask Woolfy (Mendi Blackhawks Coach Kristian Woolf) if I could come too," Faifai-Loa said.
"When he said yes I was so happy.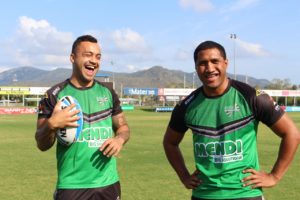 "I have great memories in Townsville, playing for the Cowboys and making my international debut."
"Having Levi and my partner Tamara here this time will make it even better."
Best known for his cheeky smile and superman like try scoring ability, Faifai-Loa played a total of 66 NRL games with the Cowboys, Dragons and Gold Coast Titans as well as 3 International games, for New Zealand and Samoa.
Mendi Blackhawks Football Operations Manager, Adrian Thomson, said he was looking forward to seeing the return of Faifai-Loa in the North.
"I knew Kalifa from the North Queensland Cowboys, so I know what he is capable of," Thomson said.
"Having Jono (Johathon Reuben) on one wing and Kalifa on the other, we think will give us some good attacking options on both sides."
Dodd, who has played with the Canterbury Bulldogs and Dragons, was named in the 2016 NSW Intrust Super Cup team of the year, before injuring his ACL, sidelining him for 12 months.
"When I first did my injury, I was really down and worried that I would miss out on opportunities," Dodd said.
"The week prior to my injury I was getting close to 18th man selection at the Dragons, it took me ages to get over it.
"I am so grateful to have signed with the Mendi Blackhawks and can't wait to get back to playing my best footy again.
"I just got engaged before moving, and my fiancé Jade and I are already saying how much we love it here, especially the culture at the club."
Dodds speed and strong defence was what caught the eye of coach Kristian Woolf and Thomson said he was thrilled when the centre finally agreed to sign with the Mendi Blackhawks.
"We have tried to sign Levi for the last 3 years," Thomson said.
"Each time, to his credit, he signed full time NRL contracts, so when he finally agreed we couldn't be happier.
"He is a good, quality utility player and most importantly he is a good person, and that's what we want at our club."
The Townsville & Districts Mendi Blackhawks will commence pre-season this Monday.