FREEMAN DETERMINED FOR SUCCESS
Thursday, October 19, 2017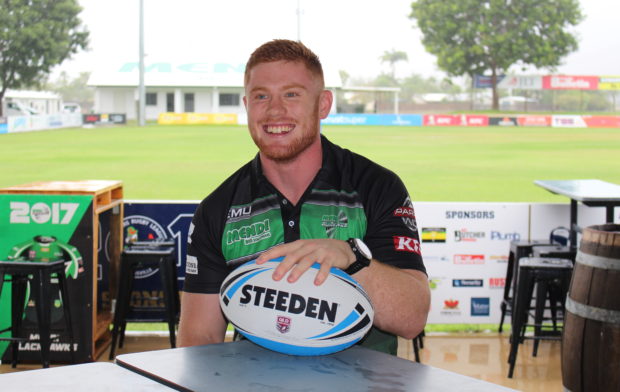 Don't let the cheeky grin fool you, Krys Freeman isn't here to muck around.
The 25-year-old rake has signed with the Townsville and Districts Mendi Blackhawks for 2018 and intends to make a name for himself, after a successful season at the CQ Capras in 2017.
Son of New Zealand great Gary, Freeman said his ultimate goal, to push his case in the NRL, factored into his decision to come to Townsville.
"I was happy with how I performed at the Capras over the last year but moving to the Blackhawks here and situating yourself as close as possible to an NRL team, an NRL town, that was a huge factor in the decision," Freeman said.
"I'm just here to show what I can do and help the Blackhawks win in 2018."
Freeman said the success of the Mendi Blackhawks also played a big part in getting him to Townsville, as well as the calibre of players at the club.
Dubbed 'Mr Consisent' for the Capras in 2017, Freeman will look to replace inaugural Mendi Blackhawks player Anthony Mitchell in the number 9 jersey.
Mendi Blackhawks General Manager Adrian Thomson said that Freeman was a great signing for the club in the wake of Mitchell's retirement.
"We're not in the market of taking players from the regional clubs, but to fill a hole that's been left with Ant Mitchell retiring we thought it was very important to get a guy of Krys's caliber," Thomson said.
"He's not only a good league player, he's a good bloke, and he's a good tough bloke.
"He's a competitor, he's everything that we think our club is about and I think he's one of our major signings."
Thomson said that, while Mitchell's were big shoes to fill, the Mendi Blackhawks had plenty of talent to fill them.
"Definitely big shoes to fill, but we've got Kierran Moseley and Krys to vie for that hooking spot and that makes it a competitive scenario," Thomson said.
"He (Moseley) was one of our best players week in, week out.
"I think that's going to be a very keenly fought spot, one to start, and then keenly fought to stay there, and that's only healthy for us."
Freeman said that, while there was no replacing Mitchell, he was eager to put his best foot forward on the field.
"Ant's obviously very successful here and on the NRL stage as well, so big shoes to fill, but I'll come in and do what I can do."
Freeman himself is no stranger to the NRL system, having spent time with both the Penrith Panthers and the Newcastle Knights, as well as playing over 40 National Youth Competition games with the Parramatta Eels and the Melbourne Storm.
"Any years I've had in the NRL I've just been injured really," Freeman said.
"I broke my arm at the Knights and I broke my leg and I broke my hand at the Panthers, so never really had that time in the system to show what I can do.
"Coming here just gives me the best opportunity to show, in a great club, in a great town, what I can add to the Blackhawks."
Freeman will bring valuable leadership to a reasonably young Mendi Blackhawks side, and said that he wouldn't take a backwards step when he gets on the park next year.
"Being as competitive as possible and doing every little thing that I can do to help the team and to win, that's the ultimate goal of being in this competition," Freeman said.
Thomson said that part of the allure of getting Freeman to the Mendi Blackhawks was to fill one of the leadership roles left by the likes of Mitchell and Michael Parker-Walshe in 2017.
"We lost a good number of quality players and also quality leaders in our club," Thomson said.
"We know that he's got those capabilities, that's why we've pursued him pretty hard to get him here."
The signing of Freeman is an integral building block for the Mendi Blackhawks 2018 season.
Thomson said that the club were working hard to retain all the players from 2017 that they wanted to retain, and that most of them were already signed for 2018, but that they were also still working on filling some gaps in their roster.
"Krys is one of them, we're still making every endeavour to fill a couple of other gaps but we're very happy with where we're at with it all," Thomson said.
"Come the 13th of November we'll assemble a fair squad that we think can be very competitive."
While Mitchell has potentially been replaced at 9, the Mendi Blackhawks are still yet to lock in a halfback to replace Parker-Walshe.
"Working pretty hard on doing that, actually losing sleep over it, but we'll get there," Thomson said.