Positive Signs at the Mendi Blackhawks
Wednesday, September 13, 2017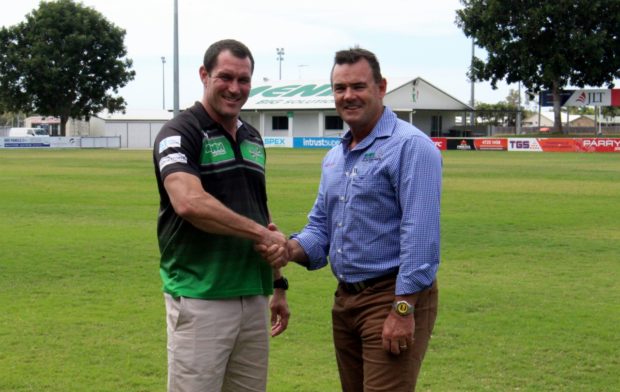 Double celebrations with the club re-signing Coach Kristian Woolf and Jeff Doyle from Naming Rights Sponsor Mendi
It's a great day for the Mendi Blackhawks who have just announced 2 valuable re-signings in 1 day.
Coach Kristian Woolf has agreed to stay on at the club for another year and naming rights sponsor Mendi have re-signed for a further 3 years.
Mendi Blackhawks Football Operations Manager, Adrian Thomson has praised the decisions, saying they could not have come at a better time.
"Both of these re-signings has reinforced that not only can we be competitive on the field, but we will also remain strong off the field."
"Kristian has taken us to 3 final appearance in our first 3 years,"
"Re-signing him was very high on our agenda." Thomson said.
"For Woolfy to re-commit shows his passion for North Queensland and the club."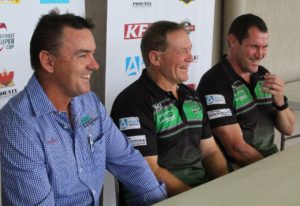 Woolf said he is happy to stay in the black and green for another year.
"I'm really enjoying my time at the Mendi Blackhawks," Woolf said.
"The support I receive from the staff and board, allows me to focus solely on the team, and that makes my job easier."
"I feel like there is still have some unfinished business here."
"I would love nothing more than to see the team win a maiden premiership."
Thomson said the re-signing of Naming Rights Sponsor Mendi was equally as important as on field signings.
"The support we receive off Jeff and Natasha Doyle and their entire team at Mendi is tremendous," he said.
"Re-signing them has been just as important as re-signing Woolfy or any of our players,"
"We have formed a great partnership with Mendi and they have been fantastic not only to us, but to football in general in North Queensland."
Jeff Doyle, Managing Director of the Mendi, said he was pleased to see his company continue as naming rights sponsor.
"We couldn't be happier to have our brand associated with the Mendi Blackhawks," Doyle said.
"They have already been very competitive in the first 3 years, and now, we want to help them to build on this."
"It's great for the whole region to have an Intrust Super Cup team in Townsville,"
"We are also a strong supporter of Junior Rugby League and when they see the Mendi Blackhawks it gives the younger players something to aspire to."