Carlin Anderson eager to take any spot in North Queensland's backline
Monday, September 11, 2017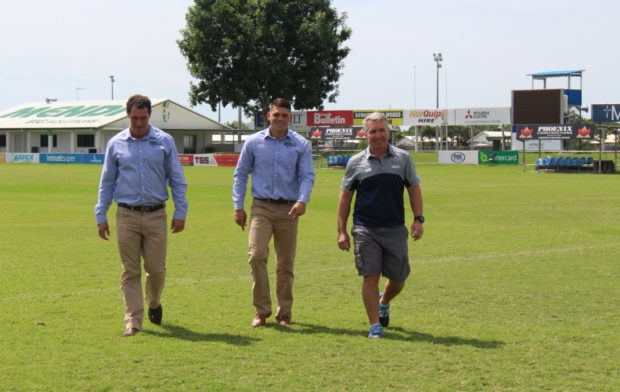 http://www.townsvillebulletin.com.au/sport/carlin-anderson-eager-to-take-any-spot-in-north-queenslands-backline/news-story/8fc6af91cb4539cb09e57f025e43eddc
TOWNSVILLE Blackhawks fullback Carlin Anderson says he will compete for a spot anywhere in the Cowboys backline as he prepares for his move into the NRL.
Anderson signed a two-year deal with the Cowboys earlier this year following his sensational run of form for the Blackhawks in this year's Queensland Cup, ending with him being crowned the competition's leading pointscorer.
Suffering a broken arm just a week out from the Blackhawks' recent elimination final, which they lost 20-16 to Easts Tigers, Anderson is nevertheless confident his NRL pre-season preparations will not be hindered.
The Cowboys secured Anderson as an understudy to starting No. 1 Lachlan Coote, with Kalyn Ponga linking with the Newcastle Knights from next season on a lucrative five-year deal.
Anderson wants to be an NRL fullback, but to make his first-grade debut Anderson is prepared to play anywhere Cowboys coach Paul Green needs him.
"Just maturing as a fullback and obviously playing NRL is the big goal, but I think wing will be a good spot for me," Anderson said.
"If can I get a position playing wing or fullback, or anywhere in the backline I'd be happy to do it.
"It's just daunting getting into a full-time system and being around the likes of Johnathan Thurston, Michael Morgan and training with them is going to be amazing.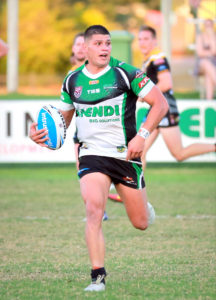 "Especially under Greeny, he's an absolute legend of a coach and he's doing really good things for the club, so I can't wait to get over there."
Anderson missed out on the Blackhawks' player of the year award at the club's farewell dinner last week, but can still count himself as arguably the Blackhawks' biggest individual success story of 2017.
The former Broncos contracted player had his NRL prospects crushed last year by a horrific facial injury that required a bar being inserted to hold two parts of his jaw together.
Anderson parted way with the Broncos at the end of the season and linked with the Blackhawks with the aim of impressing Cowboys officials next door.
"I wanted to get into a professional club and I knew the Blackhawks were going to do everything to help me," he said.
"It was a big wrap to get signed in the first few weeks, and that was my goal.
"You never know when you're going to get an NRL deal and I came up to just try and compete in everything I did.
"I wanted to be the best player on the field and the best player for the boys, and full credit for them backing me … it's just awesome to be around such a good club."
Anderson regrets not being available for the Blackhawks finals' campaign, but is already looking ahead to the future.
"It sucked I couldn't play finals with the boys, but that's footy sometimes," he said.
"It's a negative that I got injured just before finals but I can sort of take a positive out of it as well, it's good that I didn't do it at the start of the season.
"I can go into the off-season and do the pre-season with the Cowboys.
"I'm going to take it professionally and give it my all, and not look back."