Mendi Blackhawks Duo Hanging Up The Boots
Thursday, August 10, 2017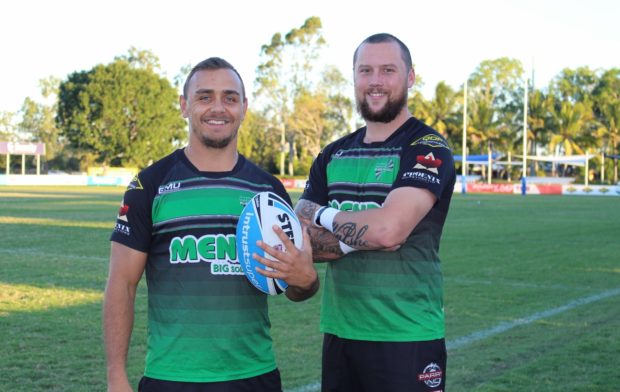 Blackhawks Media
Friday, August 11, 2017
Round 23 of the Intrust Super Cup will see two of the inaugral Mendi Blackhawks members run onto Jack Manski Oval for the last time.
Anthony Mitchell, (Blackhawks number 3) and Michael Parker-Walshe, (Blackhawks number 4), will both be retiring from the sport they love after playing 127 games between them in the last 3 seasons, with Mitchell only missing 1 game in that time.
Mitchell also had a reputable NRL career with 39 NRL games for Parramatta, Roosters and Cowboys and 2 games with the Indigenous All Stars and was a part of the 1st ever Cowboys winning side in the 2015 Auckland 9's.
"I've got some pretty awesome memories over the years," Mitchell said.
"Making the grand final for the Mendi Blackhawks in 2015 was great, but the strength and character the team showed in 2016 when we were down on troops is something I will neve forget."
"Daniel Strickland (strength and conditioning coach) even had to play on the field with us, he did a pretty good job too."
"To be given the opportunity to respresent Townsville in their first ever Queensland Cup team was literally the cherry on top for my career."
"It has been very satisfying and a massive honour to be a part of, and helping to build a new club."
While we won't see him on the field, Mitchell has expressed an interest with helping the team off the field.
"I think it's important that ex-players remain involved in their club in some way."
"If it's helping the coaching staff or development, I really want to stay a part of this great club."
Mitchell said he will miss pre-season the least, and there are so many thing he will miss the most.
"Definetly the mateship," he said.
"To be able to have so many people, including players, staff and our wonderful supporters, all aiming for that one goal at the end of the season, is really overwhelming."
Mitchell also paid tribute to his retiring half back.
"Walshy doesn't know this, but he is the reason I stayed playing for another season," Mitchell said.
"When he said he was sticking around, it was all I needed to hear."
"Not only is he a quality player, but he is also a really good bloke."
"With Walshy around I can always feel confident knowing that there is one person that I can beat at weights and fitness sessions."
"I really want to thank my support base, family, especially fiance Ashton and son Remy, for everything they have done for me," Mitchell said.
"Since I have announced my retirement, I've been completely overwhelmed with well wishes and messages of support."
"I feel like the club is in very good hands for the future, which makes my decision to retire easier."
At only 26 years old, former Cowboys Under 20 player Michael Parker-Walshe's decision to retire at a young age was also not an easy one.
"Deciding to retire after being a part of the Mendi Blackhawks and establishing ourselves for the past 3 years, was a really tough decision," Parker-Walshe said.
"My time here has been really special."
"I have decided to finish due to the fact that I am unable to give the club the 100% commitment it deserves."
"I am really trying to better myself, especially in my career, and I haven't been able to do that as well as I have wanted to."
Parker-Walshe will also be taking with him some great memories to reflect upon in retirement.
"The semi final we played at home against PNG is one game that I won't forget, it was definitely the best atmosphere I have been a part of."
"I will definetly miss the boys and the comradery that goes with team sport, especially when you are travelling so much together as a group."
He also paid tribute to his teammate Anthony Mitchell.
"From day one I have always looked up to Ant."
"To see what he has achieved on and off the field is something that I would like to aspire to."
"I want to thank everyone at the club for showing faith in me when I was playing local league and giving me the first number 7 jersey at the club."
Coach Kristian Woolf has praised the duo for their leadership and positive influence on the team for the past 3 years.
"Both players have been an integral part of the team," Woolf said.
"They were the perfect fit for the type of people we wanted at the club."
"Ant has always been a tough competitor and someone other players can lean on and look up to."
"Walshy is also extremely talented and has a really good understanding of what you want in a game and how to put it in to play, and he has the skill set to match."
"I have had the privilege to coach him now for 7 years, so it will be very different not having him there."
The Intrust Super Cup game kicks off at Jack Manski Oval this Saturday at 4pm. Prior to the game is the Police V Army Charity Match for the Islah's Sparkle Shield.