BID NOW!!! – 2017 WOMEN IN LEAGUE "PINK" JERSEY AUCTION
Thursday, June 1, 2017

2017 WOMEN IN LEAGUE MENDI BLACKHAWKS JERSEY AUCTION!!
Bidding is open NOW for the 2017 Women in League "PINK" jerseys as worn by our players Sunday June 4, 2017 against the Redcliffe Dolphins!!

The reserve price for each jersey is $75.00 and bids under the reserve will be considered invalid.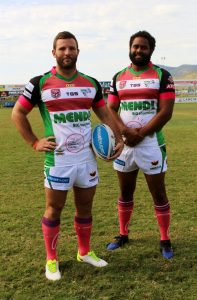 Bidding closes Wednesday, June 7 2017 at 5pm. 
Auction profits will benefit the McGrath Foundation.
BIDS CAN BE PLACED IN THE FORM BELOW
Auction details: 
Opens: 12pm, Thursday, 1 June 2017 
Closing: 5pm, Wednesday, 7 June 2017
Jerseys 1-17 worn: Round 13, 2017 Intrust Super Cup – Mendi Blackhawks V Redcliffe Dolphins @ Jack Manski Oval

As there is only 1 Breast Care Nurse in our region, the Mendi Blackhawks are supporting the McGrath Foundation in the hope that one day, we will have extra Nurses in not only our region, but throughout Australia.
All profits raised from this jersey auction will stay local in our region.
BID NOW!!
[gravityform id="14″ title="true" description="true"]