Round 13 Women in League – JERSEY AUCTION
Tuesday, May 30, 2017
Tuesday, May 30, 2017
The Intrust Super Cup, Women in League Round 13 clash between the Mendi Blackhawks and the Redcliffe Dolphins this Sunday will see a sea of pink with the players wearing pink socks and jerseys in support of the McGrath Foundations "Pull On Your Socks" campaign.
As in previous years, the player's jerseys will be auctioned on the Mendi Blackhawks website, commencing 12pm this Thursday, with all profits going to the McGrath Foundation.
The initiative started with 14 year old Nikolas Mitchell after losing a close family friend to Breast Cancer.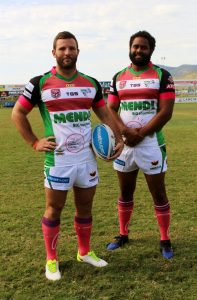 "I wanted to do something to help our friends family," Mitchell said.
"She had two small children, one was only 18 months and the other 2 years of age, and I saw how hard it was for her husband and family and I don't want anyone else to suffer like they did."
Prue Fullford, campaign manager at the McGrath Foundation says they have been blown away by the support and enthusiasm across the entire Townsville community.
"The support from this region for the McGrath Foundation is absolutely enormous," Fullford said.
"Our aim always is to increase breast care nurses in all communities and provide support for every family impacted by breast cancer."
This weekend will see almost the entire Townsville Rugby League community don the pink socks, from juniors up to the Mendi Blackhawks.
The Mendi Blackhawks will also be hosting a special Women in League Day this Sunday, with special guests including Mayor Jenny Hill and Tracy Bevan from the McGrath Foundation in a special "Pink" Women in League marquee to thank and celebrate all the wonderful women in our sport.
Raffles will also be on sale all weekend with prizes donated by the North Queensland Toyota Cowboys, Mendi Blackhawks, Townsville Stingers and a lovely homemade McGrath Foundation patchwork quilt, all kindly donated. Tickets are just $2. Winners will be drawn at half time of the Mendi Blackhawks game this Sunday.
McGrath Foundation merchandise will also be for sale.
The day starts off with Girls U15 games between Bowen, Thuringowa State High School and Kirwan State High School at 2pm followed by the Intrust Super Cup blockbuster, Mendi Blackhawks and Redcliffe Dolphins, at 3pm.  Gates open at 12.30pm.
Bidding will commence this Thursday at 12pm and you can bid right up to 5pm, Wednesday June 7.