Round 12 Mendi Blackhawks Team Announced
Friday, May 26, 2017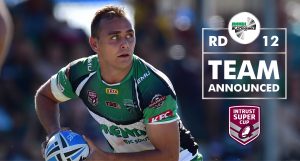 Friday, May 26, 2017
Round 12 of the Intrust Super Cup sees the Mendi Blackhawks travel to Port Moresby to take on the PNG Hunters this Sunday at the National Football Stadium.
Extra excitement for the game is the announcement that to commemorate the recently launched direct flights between Port Moresby and Townsville, Air Niugini has put up the perpetual Air Niugini Cup to be played for between the SP Hunters and Mendi Blackhawks.
"The inaugural Air Niugini Cup will be played for by the two teams in Port Moresby this weekend," Air Niugini CEO Simon Foo said.
"The Cup will be played for on an annual basis and will encourage our fellow country folk living in and around Townsville, supporters of the Mendi Blackhawks as well the business and corporate community. Not only will the focus be for this annual tournament, but the opportunity will be provided to travel on our direct flight on Friday, visit friends and families or do business on Saturday, watch the game on Sunday and return direct on Monday ," he said.
A late change to the Mendi Blackhawks sees flying winger Jonathan Reuben ruled out of the match with a rib injury suffered in last weeks game.  This makes for the return of Ty Carucci back into the starting side.
Score updates will be available on the QRL website: http://live.qrl.com.au/match/a0e2bf7daa672f2c8/c6d77fc61a8d92ac3
Team: Townsville Mendi Blackhawks v PNG Hunters
Venue: National Football Stadium
Date: 28 May 2017, 3pm
1. Carlin ANDERSON
2. Samsen O'NEILL
3. Temone POWER
4. Davin CRAMPTON
5. Ty CARUCCI
6. Kyle LAYBUTT
7. Michael PARKER-WALSHE
8. Sam HOARE
9. Anthony MITCHELL
10. Corey JENSEN
11. Blake LEARY
12. Andrew NIEMOELLER
13. Dan BEASLEY (c)
Interchange
14. Kierran MOSELEY
15. Jordan KENWORTHY
16. Sione LOUSI
22. Oshae TUIASAU
17. Kieran QUABBA
Coach: Kristian Woolf