QLD Residents wrest back shield
Monday, May 8, 2017
Blake Leary leads the team out as captain for XXXX QLD Residents.  Pic supplied NRL 
by MICHAEL NUNN, QRL Media 
Original posted on www.qrl.com.au, Sunday May 7
While NSW might have been confident of backing last year's performance in the annual interstate Residents clash, Queensland were determined to win back the shield and came out firing.
In the staging of the 27th Residents game, the head-to-head tally was a close one and Queensland were looking to go ahead 13 to 12 (with two draws).
Last year, Queensland suffered from a poor start and never recovered; and they fixed that flaw in 2017 starting both the first half and second half with tries.
Dean Britt scored the home side's first try when he ran onto a beautifully timed pass from Mitchell Cronin to score under the posts after a great run by Kyle Laybutt to give Queensland the perfect start.
New South Wales tested the Queensland defence by trying to go around the Queensland team and beat them on the outside. However, they were up to the task and turned them away, sliding to cover any danger.
New South Wales showed quick thinking when they went to a short inside ball from Craig Garvey to Penrith's Moses Leota who couldn't be stopped that close.
At 6-6 both teams settled into a physically challenging game.
Redcliffe's Christian Hazard was brought on to change the game and added plenty of impact, straightening up the Queensland attack and having runners following him through.
In a tough first half, Queensland's kicking game was failing to put pressure on New South Wales; but 10 minutes before halftime, Queensland was able to address the issue with a line drop-out and a short kick that forced New South Wales to ruck it out from their own line and kick early.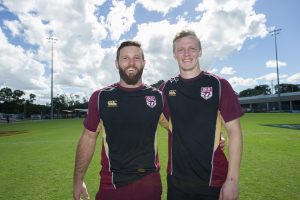 After a line break for Queensland, they were able to then drew a penalty and they opted to take the two points to head to the break 8-6.
At halftime, Queensland coach Jon Buchanan was happy with his side's defence and ball security as they had controlled the ball beautifully with 18 of 19 sets completed.
The Queensland front row of Britt and Sam Anderson had been outstanding in the middle third of the field in both attack and defence.
New South Wales coach Rip Taylor addressed his players and wanted them to straighten their attack and not go sideline-to-sideline and to take the Queenslanders on.
To open the second half, Queensland found right winger Delouise Hoeter who put his head down and beat defenders to get to the corner after some great lead-up work from Jahrome Hughes who quickly distributed the ball.
Hoeter wasn't done with yet and he followed it up with a great overhead grab two minutes later in the same corner on the end of a great kick by Laybutt.
Queensland were now up front 18-6 with 30 minutes to go.
Laybutt put it on the ground again, and after bringing up the defence – Billy Walters was able to get behind the New South Wales defence and beat Jayden Nikorima to score.
Laybutt put in a huge effort and his kicking in the second half was able to keep the pressure on New South Wales.
Hazard also stepped up and created a two-on-one and Tom Opacic did the rest – finding a way through two New South Wales defenders to score.
Big lock Mitchell Frei made sure he got on the score sheet when he was on the end of a great pass from Cronin and he dived over next to the posts to put Queensland up 36-6.
Queensland's forwards had been outstanding with Anderson playing the whole game, Nat Neale making 20 tackles before halftime and George Fai keeping the momentum moving when he came on the field. Blake Leary also put in a resilient captain's performance, while Nick Slyney showed all his experience when he was on the field.
On the end of that great forward play; Laybutt, Walters and Hughes were able to dominate for their outside backs to finish the good work.
See the full scoring details and final team line-ups for this game via QRL Live
XXXX QUEENSLAND RESIDENTS 36 (Delouise Hoeter 2, Dean Britt, Billy Walters, Tom Opacic, Mitch Frei tries; Scott Doyle 6 goals) def NSW INTRUST SUPER PREMIERSHIP RESIDENTS 6 (Moses Leota try; Jayden Nikorima goal) at Suzuki Stadium, Langlands Park.
Halftime: Queensland Residents 8-6 Man of Match: Blake Leary (XXXX Queensland Residents)