Munro Rewarded with Pacific Test Selection
Tuesday, May 2, 2017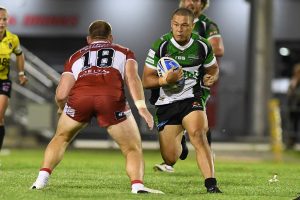 Outstanding form has seen David Munro selected to play for the Cook Islands
Tuesday, May 2, 2017
Hard work has paid off for the Townsville and Districts Mendi Blackhawks front rower David Munro who has been selected to play for the Cook Islands in the Pacific Test International this Saturday.
This is the first time Munro has been selected to play for his birth country and ironically, through his mother, he is also eligible to play for Papua New Guinea, the team that he will be up against.
When asked about the selection, 22 year old Munro said he could not be happier.
"When I got the call from Woolfy (Mendi Blackhawks Coach Kristian Woolf) I couldn't believe it," Munro said.
"I got off the phone and phoned my Mum and Dad straight away, they were so happy also."
"It's always something I have wanted to do, but didn't think I would get the chance."
"It will be good knowing that my Nana and all my family in the Cook Islands will be watching."
Mendi Blackhawks coach Kristian Woolf said he was very happy for the former Cowboys NYC product, who has been playing consistently good football since joining the team.
"Dave has had a couple of years of really good footy in the Intrust Super Cup, and this is a really deserving reward for him," Woolf said.
"He is a very tough individual who plays hard, is very physical, has lots of energy and is willing to put his body on the line every week."
"The whole week will be great for him, not only for his football but for his confidence."
"It will be great for him to get the chance to experience a lot of cultural things that you don't usually get the chance to be a part of."
"This is something that is very close to him, and he has expressed his desire to play for the Cook Islands, so I couldn't be happier for him that he has this opportunity."
Kick off for the Pacific Test is 3.15pm, Saturday May 6, followed by Tonga and Fiji at 5.30pm then England and Samoa 7.40pm.