ANDERSON INKS DEAL WITH COWBOYS
Wednesday, April 26, 2017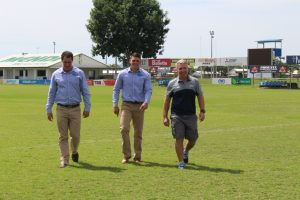 Hard work has paid off for Carlin Anderson who has just signed a 2 year deal with the North Queensland Toyota Cowboys, pictured with Mendi Blackhawks Coach Kristian Woolf and North Queensland Toyota Cowboys Coach Paul Green
BY NORTH QUEENSLAND TOYOTA COWBOYS MEDIA AND BLACKHAWKS MEDIA
WEDNESDAY, APRIL 26, 2017
THE North Queensland Toyota Cowboys and Mendi Blackhawks are pleased to announce the signing of exciting young fullback Carlin Anderson to the Cowboys on a two-year deal.
Currently playing for Cowboys feeder team the Townsville Mendi Blackhawks, Gympie product Anderson, 21, will join the club's full-time NRL squad for the 2018-19 seasons.
Anderson moved to North Queensland to link with the Mendi Blackhawks in the hope of re-igniting his career, and his sizzling form in the Intrust Super Cup this season hasn't gone unnoticed.
"Carlin is an exciting young talent who has been in terrific form for the Mendi Blackhawks and we're thrilled to have signed him," said Cowboys General Manager – Football Peter Parr.
"He came to North Queensland looking for opportunities and he's been a terrific addition to Kristian Woolf's Mendi Blackhawks team; and his signing clearly shows that if you come to one of our feeder clubs, we'll look at you.
"There's a clear pathway there and Carlin's signing to the Cowboys is a clear sign that, if possible, our first option is to look to our feeder teams when recruiting young talent."
After starring for eventual premiers Ipswich in the 2015 Intrust Super Cup season, Anderson linked with the Brisbane Broncos, but suffered two serious injuries last year, spending long stints on the sidelines.
Fully recovered, the young flyer came North and has made every post a winner for the Mendi Blackhawks to date, and is the runaway Intrust Super   Cup Individual points leaders after eight rounds.
Anderson said he felt happy and settled in his new home, which allowed him to concentrate on playing good footy.
"It's unbelievable that I will be able to call myself a Cowboy," he said. "I wanted to come here for a fresh start, and the Mendi Blackhawks have been so supportive – I can't thank Woolfy and the staff for all they've done for me on and off the field."
Woolf said Anderson was a pleasure to coach and was a big reason the Mendi Blackhawks were sitting in the top five of the comp after eight rounds.
The experienced mentor added that the Cowboys' signing of his star fullback was a good example of the pathways system at work.
"Carlin has been terrific for us this season," Woolf said.
"He's had a tremendously positive impact at our club and to see him progress to a deal at the Cowboys says that we're providing a great foundation on which players can build and improve their games.
"The relationship between the two clubs is as strong as ever and we're thrilled to play a part in this successful pathways program."
Anderson will look to continue to help the Mendi Blackhawks push for a maiden Intrust Super Cup title, the team travelling south to take on the Wynnum Manly Seagulls at BMD Kougari Oval on Saturday.