Round 8 – Mendi Blackhawks Defeat Tweed Heads Seagulls in ANZAC Round
Tuesday, April 25, 2017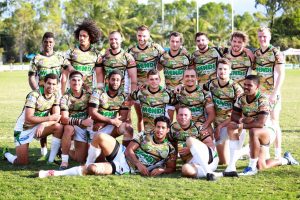 Photo's by Alix Sweeney
Tuesday, April 25, 2017
The Townsville Mendi Blackhawks defeated the Tweed Heads Seagulls with a solid 48-18 win, in the Round 8 ANZAC Round of the Intrust Super Cup.
Prior to the game, both teams paid tribute to ANZAC Day with a moving remembrance ceremony on the field.
The Mendi Blackhawks started the game with a try to Temone Power in the 4th minute, the first of 9 tries for the home team that day.
A missed conversion put the visitors in front shortly after with a try to the Tweed Heads number 19 Kurt Bernard, making the score 6-4, and the first of his two tries for the day.
Going into half time leading 12-6, the home team were looking for something special to extend the lead, and they got it.
Two tries to Carlin Anderson and one try assist in the 79th minute, that is sure to feature in the highlight packages, saw a flying Anderson launch over the deadball line and flick the ball back in play for Jordan Kenworthy to score an incredible try.
Anderson was also 6 from 9 for conversations, taking him further ahead as Intrust Super Cup leading point scorer.
Kyle Laybutt scored his first try since returning from injury, muscling over with a clever dummy, almost under the post in the 67th minute.
Jonathon Reuben remains on top of the Intrust Super Cup try scorers crossing the line for the 9th time this season in the 46th minute.
Tries each to the reliable right side of Ty Carucci and Samsen O'Neill sealed the win.
Mendi Blackhawks Coach Kristian Woolf said he was pleased with his teams improvement from last week.
"It was good to see glimpses of what we are capable of," Woolf said.
"We still need to be more consistent and continue to work hard, but it was good to see improvements."
Woolf also made special mention of his forwards Oshae Tuisai, with some terrific offloads, Lee Jewitts big metres up the middle and was happy to welcome back Sione Lousi who fractured his arm in round 1.
The next game for the Mendi Blackhawks is against Wynnum Manly on Saturday at BMD Kougari Oval.
TOWNSVILLE MENDI BLACKHAWKS 48 (Temone POWER, Ty CARUCCI, Samsen O'NEILL 2, Carlin ANDERSON 2, Jonathon REUBEN, Kyle LAYBUTT, Jordan KENWORTHY tries; Carlin Anderson 6 goals) def TWEED HEADS SEAGULLS 18 (Kurt BERNARD 2, Shane GILLHAM tries; Michael Burgess 3 goals) at Jack Manski Oval.
Photo's Alix Sweeney