Local Hero Set for NRL Debut
Wednesday, April 12, 2017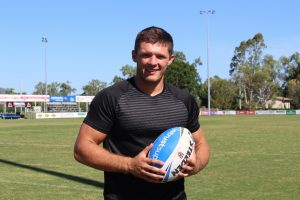 Corey Jensen set to debut for the North Queensland Toyota Cowboys this Saturday night.
Wednesday 12 April, 2017
Dedication and hard work has paid off for Townsville Mendi Blackhawks front rower and former Bowen and North Queensland junior Corey Jensen, who is set to debut in the NRL this weekend as player number 264 for the North Queensland Toyota Cowboys.
The 23 year old, who was the 2016 Mendi Blackhawks Players Player of the Year and Forward of the Year, has had a remarkable start to the year, consistently playing well and carrying over 220 metres in his last appearance.
Looking back, Jensen was a relatively late starter to Rugby League, following his mates who switched from soccer to league at the age of 12.
In his final year of schooling, Jensen's love and commitment to the game saw him move from Bowen to Townsville, to attend Ignatius Park College and homestay with current Mendi Blackhawks Assistant Coach, Dave Elliott.
"It was tough to leave Bowen after growing up there and doing all but my final year of high school there," Jensen said.
"But once I got here I really enjoyed it, everyone was so nice to me."
The move to Townsville certainly paid off, Jensen was selected and has played in every possible representative and development pathway in the Townsville and District Rugby League.
His list of accolades includes Townsville Stingers U16 & U18 teams, NQ Schoolboys, QLD U16 and U18's, Cowboys U20's, Mendi Blackhawks and now the North Queensland Toyota Cowboys.
Mendi Blackhawks Coach Kristian Woolf said he couldn't be happier for Jensen and feels he has set himself up well for the new challenge.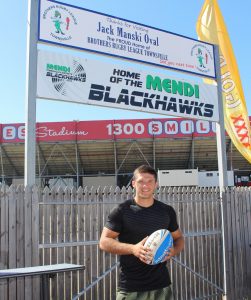 "Corey has always had great physical, athletic talent," Woolf said.
"In his time at the Mendi Blackhawks he has really been able to grow into a very good and very reliable front rower."
"We are all very proud of him, not only how he has developed himself as a player on the field, but also developed as a person."
"Hopefully he makes his debut knowing that he has plenty of confidence and really good form behind him, I think he will go really well."
Jensen was rewarded earlier this year when he signed a one year contract with the North Queensland Toyota Cowboys.
"Being in full time footy, you have to be at your best all of the time, otherwise you can't do your job properly."
Jensen hopes that his selection will show other kids that you can still be selected even if you are from a small town.
"Growing up in Bowen the Cowboys was always a side that you looked up to."
"My parents used to travel two and a half hours each way from Bowen every Tuesday and Thursday for rep training,"
"We would get home at midnight, but they never complained about it, so I have always wanted to give back to them, make them proud and show them that what they did for us wasn't a waste."
"Being the eldest of 7 children, including 7 year old twins, I knew how hard it was for my parents, especially financially, so I've always wanted to give something back to them."
"My family were shocked when I told them, Mum nearly cried."
Jensen paid tribute to his partner of 7 years Shannon Gordon who has been there through some good and tough times.
"Shannon has always stuck by me and has always been there for me,"
"I've had a few up and down's along the way and she has always been the one, along with my parents, who has been there to support me."
When asked about the game on Saturday night, Jensen is focused on getting his job done correctly.
"Greeny (Paul Green) has spoken to me, and told me to play like I've been playing all year, that's the reason I have been given this opportunity."
"I don't want to let nerves and excitement get to me or play the game too early."
There is no doubt that when Jensen takes the field this Saturday night, the whole town of Bowen will be cheering him on.
"As soon as the team was announced, my phone started going off, it's just been amazing."
"Hopefully I can go out there and make them all proud."
Corey Jensen in action Photo: Alix Sweeney