TDRL standouts earn contracts with Townsville Blackhawks
Friday, April 7, 2017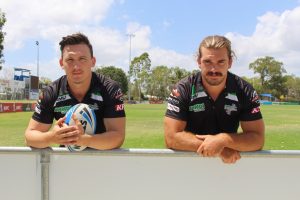 ORIGINALLY PUBLISHED ON TOWNSVILLE BULLETIN WEBSITE
BY MICHAEL THOMPSON, SPORTS REPORTER, TOWNSVILLE BULLETIN
April 7, 2017
http://www.townsvillebulletin.com.au/sport/tdrl-standouts-earn-contracts-with-townsville-blackhawks/news-story/db492896f69976c1a68316a31a53fa1a
TOWNSVILLE junior Cade Maloney says he is ready to make his mark in the Queensland Cup after inking a one-year deal with the Townsville Blackhawks.
Maloney and fellow Townsville and Districts Rugby League standout Halvor Harris have been added to the Blackhawks' Queensland Cup squad after impressing for Brothers and Centrals respectively.
The pair earned pre-season train and trial contracts with the Blackhawks and were part of the club's development squad, but are now firmly in the mix for Q Cup after making the step up.
Maloney, 22, was the TDRL's forward of the year in 2016 and Harris, also 22, is backing up from leading Centrals to last year's TDRL grand final
"During the train and trial 'Woolfy' (Blackhawks coach Kristian Woolf) said he was interested in signing us, so the goal was to get through the pre-season, be fit and have all the right boxes ticked," Maloney said, who was the Blackhawks' 18th man in Round 3.
"I born and bred in Townsville and then after high school moved to Brisbane to be at the Broncos.
"When I got back to Townsville I was definitely looking at getting back to the top level again.
"I've been talking to Woolfy and he said just to keep working hard, and when things fall into place I'll get my start.'
The Blackhawks have their Cowboys allocations knocking on the door of NRL, with Sam Hoare already getting two games.
Off-season recruit Blake Leary is back in the first grade fold after being named in Paul Green's extended squad for Saturday's clash against the Wests Tigers, and Corey Jensen is also pushing hard.
That could test the Blackhawks' forward stocks come Origin time, and the club knows more than most how stretched a team's playing depth can become through injury.
Blackhawks football operations manager Adrian Thomson said Maloney and Harris will be able to make an impact at Q Cup level.
"They definitely stood up in the pre-season and they're both solid characters, so they're great additions to the squad," he said.
"Our coaching staff has no worries if they had to put them into a Q Cup game, which is why they're in our squad, and it just adds depth to our forwards.
"It's great for the TDRL and I've got to say there's quite a number of other players who are going really well at this stage of the season.
"There's opportunities there for them."
The Blackhawks held a final training session overnight ahead of tomorrow's game against the Northern Pride in Cairns.
In other TDRL news Brothers host Centrals tonight from 7.30pm at Jack Manski Oval to kick off round three, with the other games to be played tomorrow.