Mendi Blackhawks Team Announced – Round 5 V Easts Tigers
Friday, March 31, 2017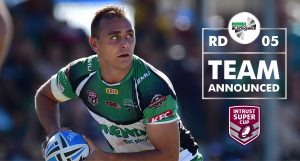 Friday, March 31, 2017
Townsville Mendi Blackhawks Coach Kristian Woolf has named his team for Round 5 to take on the Easts Tigers at Jack Manski Oval, in the Intrust Super Coach.
A win tomorrow will see them remain on top of the ladder after 5 rounds.
Corey Jensen makes his welcome return to the team after a week on the sideline due to suspension.
"Corey has been outstanding for us in every game this year," Woolf said.
"He brings to the team experience and size, and that's what we will need against the Easts Tigers."
Woolf said he is expecting his team to be back to their best this week.
Round 5 will be dedicated to Zaidee's Rainbow Foundation.  Players will be wearing Rainbow shoelaces to promote awareness and increase organ and tissue donations. The initiative is part of the charity partnership between the QRL, Zaidee's Rainbow Foundation and the James Ackerman Family Trust Fund.
Zaidee Rose Alexander Turner – aged seven years and 22 days – died suddenly in 2004 from a burst blood vessel in her brain called a cerebral aneurysm. Zaidee's parents, Kim and Allan, founded Zaidee's Rainbow Foundation not long after.
At the time of Zaidee's death, the Turner family had been registered organ and tissue donors for five years. As a result, Zaidee donated her organs and tissues at the Royal Children's Hospital, as were her wishes at the time.
From this gift, the lives of seven people were improved and, in some cases, saved. The shoelaces will be on sale for $2.00 per pair during the day at Jack Manski Oval.
The first game of the afternoon sees the Mendi Blackhawks U18 Mal Meninga Cup team kick off at 12.25pm followed by the U20 FOGS State-Wide Comp at 2pm.
The Intrust Super Cup game kicks off at 4pm.
Townsville Mendi Blackhawks v Easts Tigers
Jack Manski Oval, Townsville
1st April 2017, 4pm
Carlin ANDERSON
Samsen ONeill
Temone POWER
Ty CARUCCI
Jonathon REUBEN
Kierran MOSELEY
Michael PARKER-WALSHE
Oshae Tuiasau
Anthony MITCHELL
Corey JENSEN
Blake LEARY
Andrew NIEMOELLER
Dan BEASLEY (c)
Interchange
Kieran QUABBA
Jordan KENWORTHY
Sam FOSTER
David MUNRO
Coach: Kristian Woolf