Mendi Blackhawks Welcome Captain Back
Friday, March 17, 2017
Friday, March 17, 2017
It was a long and painful preseason for Townsville Mendi Blackhawks Captain Daniel Beasley who on Sunday played his first game since he suffered a season ending knee injury in the first trial match of 2016.
This Saturday will be his first game back at Jack Manksi Oval and the 24 year old cannot wait, the same can be said for his team mates, coaching staff and anyone that has followed the North Queensland local over the years.
"I'm feeling a lot more confident after the game on Sunday," Beasley said.
"I'm really looking forward to playing in front of a home crowd tomorrow."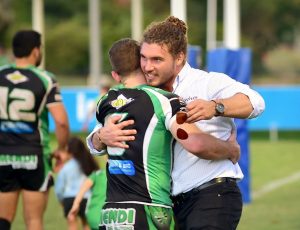 Beasley cannot speak high enough of his medical and rehabilitation team who were able to get him back on the field last week.
"The Mendi Blackhawks coaching and medical staff knew how much I wanted to be back, I really can't thank them enough."
There were times when rehabilitation was extremely difficult, but there was no other option for Beasley, getting back on the field with his team mates was his only priority.
Off the field, Beasley continued his support and leadership of the Mendi Blackhawks and coach Kristian Woolf cannot praise him enough.
"Dan Beasley has got all the great leadership qualities in abundance," Woolf said.
"He is a leader at our club for a reason."
"Dans actions and performance on and off the field is always focused on leading the team in the right direction."
Beasley scored a try in his first game back, but you cannot get the modest front rower to admit it was his strength and power, which is returning, that helped get him across the line.
When asked about the try Beasley replied, "it was a team effort,"
"I was just at the right place at the right time."
Beasley began his career as an 11 year old at Cairns Brothers.  The day after he finished high school he signed with the Cowboys Under 20's, making the move to Townsville.
He was quickly signed by the Intrust Super Cup club Norths Devils before moving to Mackay to play for the Cutters and eventually returning to Townsville to play for the Mendi Blackhawks, in their first season in 2015.
"My ultimate desire and passion is to play well for the blokes beside me every week," Beasley said.
"I would really like an NRL contract, and that will only come if I perform well consistently every week."
Mendi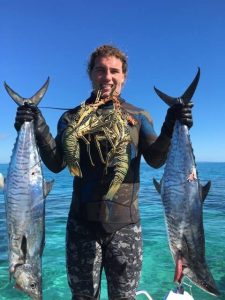 Blackhawks Strength and Conditioning Coach, James Moran is more than pleased with his return.
"Dan has a very professional approach to training," Moran said.
"His preparation each week is always 'A' class."
"Dan is a real deep thinker at training, and when playing, and that really sets him apart from other players."
On a rare weekend off, Beasley is usually found with his other passions, fishing, hunting or practically anything around water, but that has been put on hold until he is back to 100%.
"Anyone who knows me, knows that I love anything adventurous or in the outdoors," Beasley said.
"Unfortunately, I have to look after my body right now and focus on my footy."
"Two years ago I had a plan, to finish my degree and play NRL,"
"This year I will finish my degree, so there is only one thing left to do."
See Dan and the Mendi Blackhawks in action at Jack Manski Oval tomorrow @ 4pm against the Mackay Cutters.