Round 1 – Blackhawks 18 def Norths Devils 16
Monday, March 6, 2017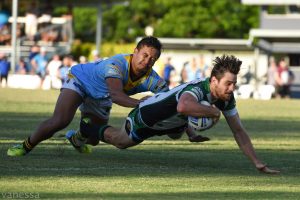 Ty Carucci crossed the line twice in the Blackhawks victory on Sunday. Photos courtesy of Vanessa Hafner
Monday, March 6 2017
Tough and gutsy is how Blackhawks Coach Kristian Woolf has described his teams 18-16 point win over the Norths Devils at Bishop Park on Sunday.
The Blackhawks were forced into quick positional reshuffles due to injuries including five eighth Kyle Laybutt in the first five minutes of the game.
"Kyle will be having scans today to reveal the extent of his injury, but we are hoping it's not too serious," Woolf said.
"We showed a lot of toughness and character having to compensate losing such crucial positions, but it was a good sign for us" Woolf said.
"Kierran Moseley did a terrific job filling in as five eighth and Anthony Mitchell lead the way really well playing 80 minutes in the middle."
The Blackhawks try line defence was continually tested from the Devils in the first half, but Woolf was very pleased with their effort.
"We did a really good job in the way we wanted to defend for each other, set after set."
The scores were locked at 4 all heading into the second half, but things did not get any smoother for the Blackhawks losing Lee Jewitt with a knee strain and the Sione Lousi with a broken arm.
"Like Kyle, Lee will be having scans, but unfortunately Sione is having his arm operated on today and will possibly be out 6-8 weeks."
"Sione knew that his arm was not right but he kept himself in the middle and made sure he didn't let anyone down, he actually came up with a try saving tackle right on the line, it was an incredibly brave effort from him."
"There were a lot of things that didn't go our way and we gave the opposition too much footy through errors, but we were willing to tough it out and that's a really good sign of a team."
The Mendi Blackhawks will travel to Ipswich on Sunday to take on the Jets, in the televised game of the week.  Kick off is at 12.40pm.
MENDI BLACKHAWKS 18 (Anderson, Mitchell, Carucci 2; Jensen goal) def NORTHS DEVILS 16 (Hoeter, Molo, Pollock; Murphy 2 goals) at Bishop Park, Brisbane
Photo's courtesy of Vanessa Hafner